Expanding the Art Fair Format

For CHART's 10th celebratory edition we are proud to build on our legacy of celebrating and developing the local arts scene by collaborating with the iconic amusement park Tivoli Gardens.

Opened in 1843, Tivoli Gardens is one of the oldest amusement parks in the world and a historic cultural landmark in the centre of Copenhagen.

The project invites visitors to explore a series of new art installations by 15 artists situated throughout the park, including site-specific sculptures and video projections, thereby expanding the traditional art fair format and encouraging new audiences to engage with contemporary art.

The exhibition in Tivoli Gardens opens on 25 August to coincide with CHART and will remain on-view until 25 September.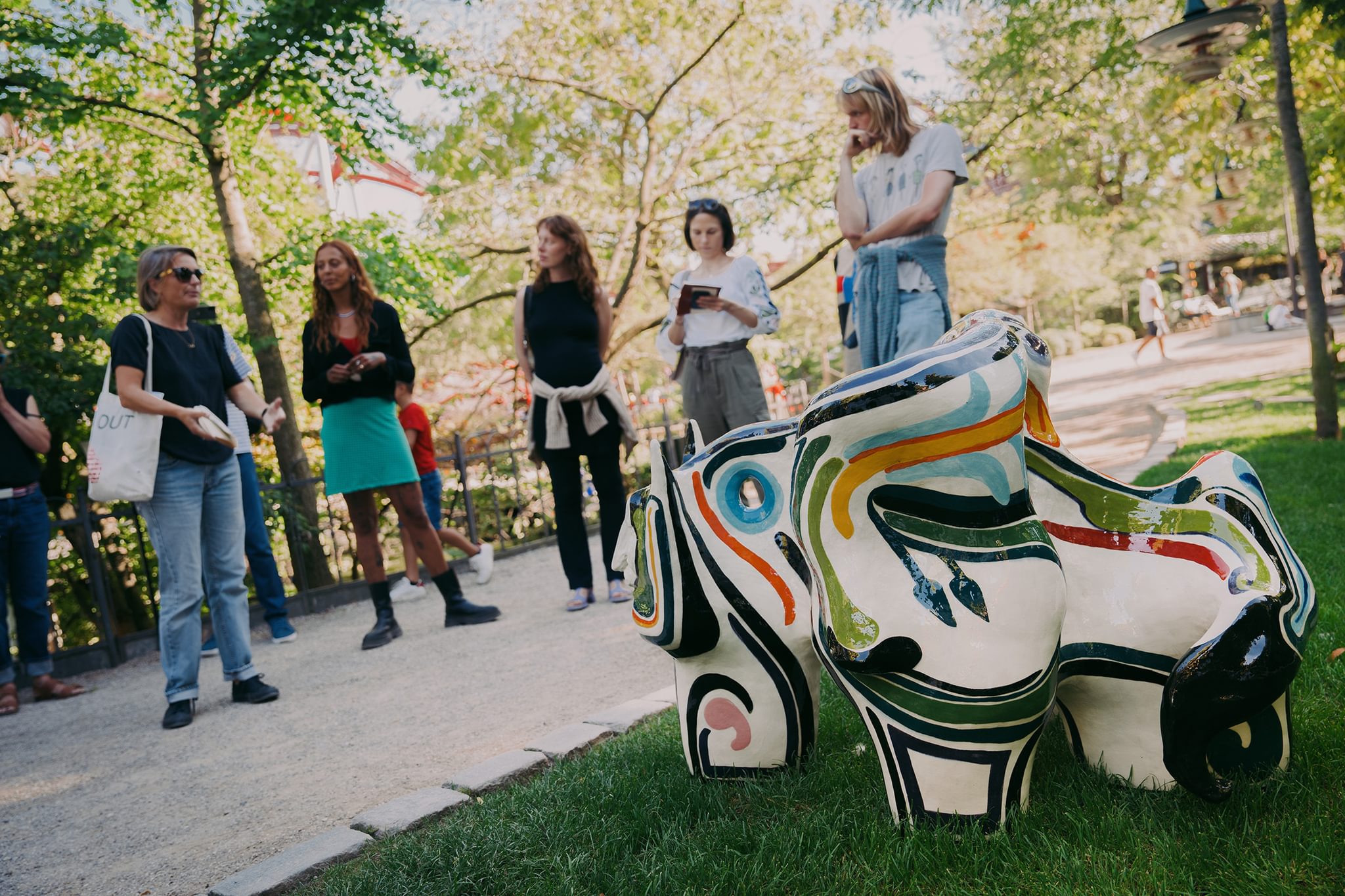 Video by Joakim Züger / BARSK Projects
Installation Views
Nanna Abell, The truth of the world, 2022

Pernille With Madsen, Mise-en-scene, 2022

Þórdís Erla Zoëga, Rebirth, 2022

Austin Lee, Donkey with Flowers, 2022

Bella Rune, Thought Practice, 2020

Bella Rune, Venus, 2020

Geoff McFetridge, Coming Back Is Half The Trip, 2018

Geoff McFetridge, Bring to Front (Crawling Figure Floating on All Fours), 2022

Anders Herwald Ruhwald, Double Body #1 and Double Body #2, 2022

Esben Weile Kjær, HYPER, 2022

Jasmin Franko, Rhythmic Cat, 2022

John Kørner, Large Problem of Copenhagen, 2022

Kim Simonsson, Girl Feeding a Two Headed Rabbit, 2018

Hrafnkell Sigurðsson, Resolution, 2022

Kristinn E. Hrafnsson, East meets West and North meets South and, 2022

Kåre Frang, Attachments, 2021

Lilibeth Cuenca Rasmussen, Musa x Paradisica, 2022

Nanna Abell, The truth of the world, 2022

Pernille With Madsen, Mise-en-scene, 2022

Þórdís Erla Zoëga, Rebirth, 2022

Austin Lee, Donkey with Flowers, 2022

Bella Rune, Thought Practice, 2020

Bella Rune, Venus, 2020

Geoff McFetridge, Coming Back Is Half The Trip, 2018

Geoff McFetridge, Bring to Front (Crawling Figure Floating on All Fours), 2022

Anders Herwald Ruhwald, Double Body #1 and Double Body #2, 2022

Esben Weile Kjær, HYPER, 2022

Jasmin Franko, Rhythmic Cat, 2022

John Kørner, Large Problem of Copenhagen, 2022

Kim Simonsson, Girl Feeding a Two Headed Rabbit, 2018

Hrafnkell Sigurðsson, Resolution, 2022

Kristinn E. Hrafnsson, East meets West and North meets South and, 2022

Kåre Frang, Attachments, 2021

Lilibeth Cuenca Rasmussen, Musa x Paradisica, 2022