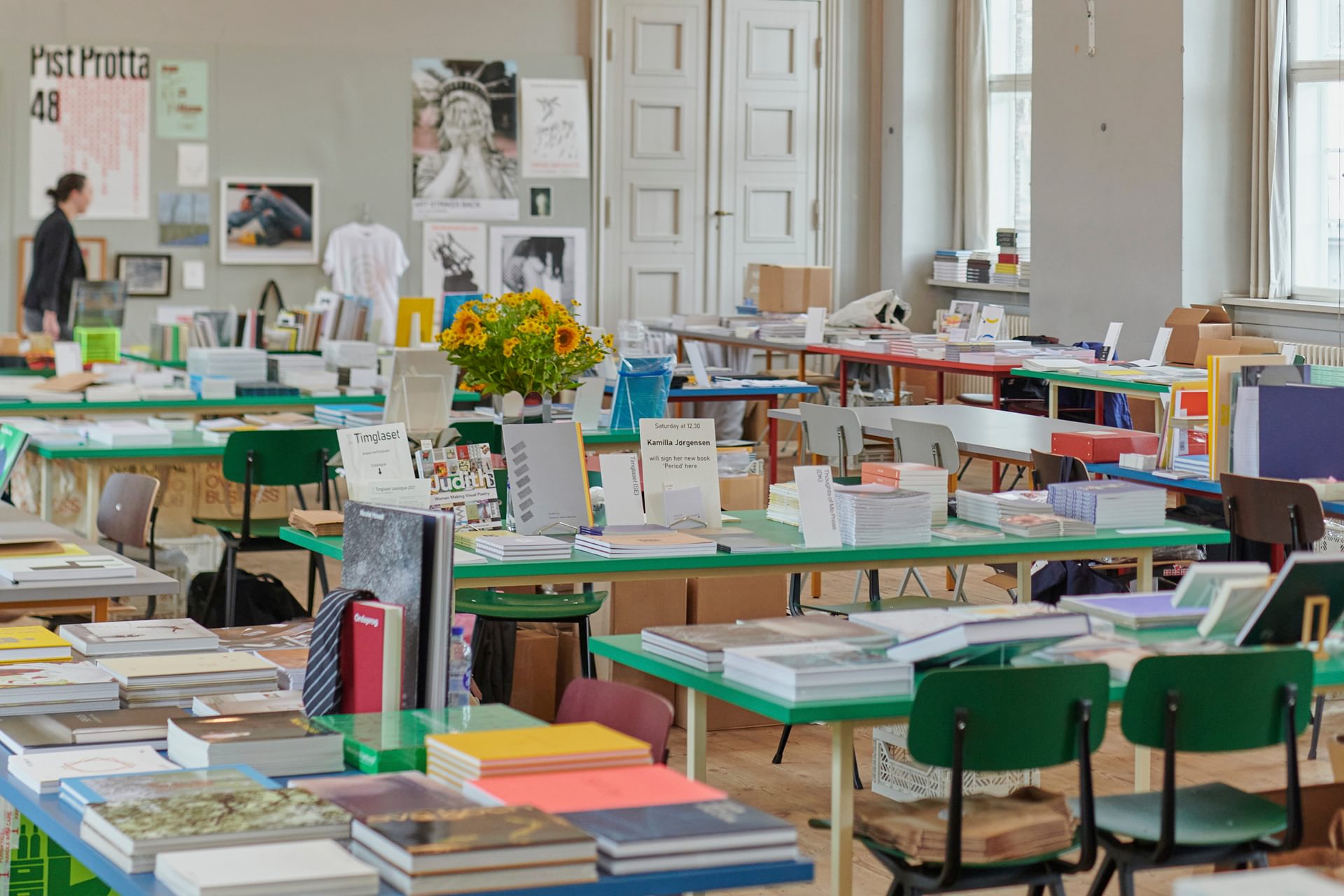 Photo by Niklas Adrian Vindelev
Bringing together the most exciting voices in independent publishing
For CHART 2023, the Book Fair will return to Charlottenborg for its third edition to showcase the work of leading art book publishers from across the Nordic region. If you are curious about the world of Nordic artist books, this is the perfect place to start your collection.

Look forward to new publications by established international artists like Alex da Corte and Tal R, as well as prominent emerging artists like Molly Haslund and Anna Stahn, a curated selection of artist books from East Asia, new photo books from Finland, as well a Deep Reading Room presented by Plethora in collaboration with Københavns Møbelsnedkeri and CHART, where you can take a break and immerse yourself in the world of artist books.

Head over the Exhibitor pages to find out more about the publishers participating at CHART Book Fair 2023, and the wondeful publications they will be bringing with them.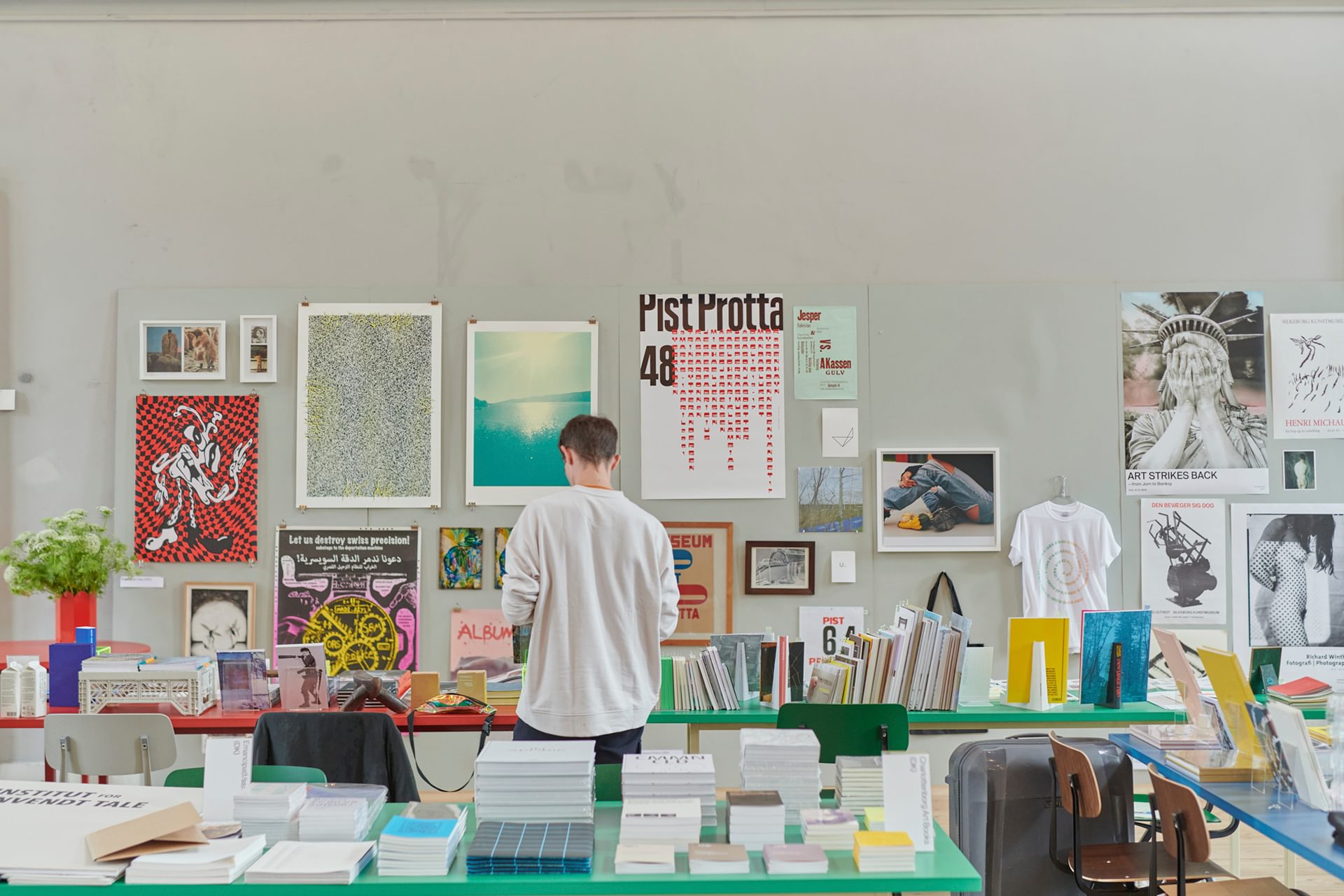 Photo by Niklas Adrian Vindelev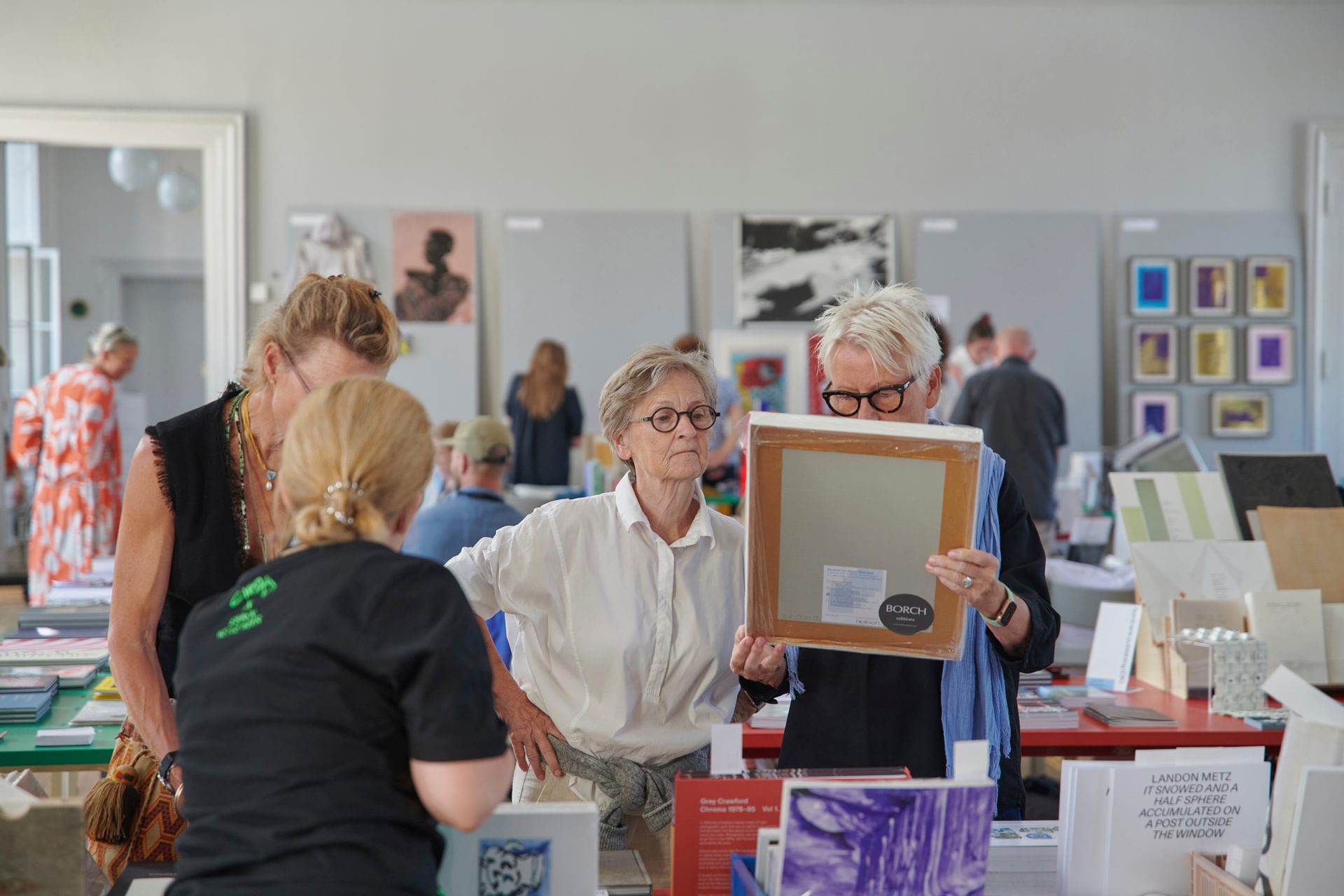 Photo by Niklas Adrian Vindelev
CHART Book Fair 2023 Participating Publishers

We are delighted to welcome an exciting selection of new publishers, participating at CHART Book Fair for the first time:

Blackbook Publications (SE), Blankt Papir Press (DK), Bokeh Editions (FI), BOOK LAB (DK), Decadence Comics (DK/UK), forlaget AFTRYK (NO), Longetti (DK), Null & Void Books (SE), PBFF (Photobooks from Finland) (FI) Praun & Guermouche (SE), and Uten tittel (NO).

We are also thrilled to welcome the following leading publishers from across the Nordics back to CHART Book Fair for our third edition:

*[asterisk] (DK); At Last Books (DK); bladr (DK); Charlottenborg Art Books (DK); Codex Polaris (NO); EKELY (DK); hurricane publishing (DK); Kunsthall Oslo (NO); Lodret Vandret (DK); Northing/Kinakaal forlag (NO/CN); Plethora (DK); Print & Friends (IS); RSS Press (DK); Space Poetry (DK); Strandberg Publishing (DK); Woodpecker Projects (SE).

Find out more about each of the publishers participating HERE

Selected Publications
Gitte Broeng, Vis à Vis, 2021, *[asterisk]

Alex Da Corte, Rubber Pencil Devil, At Last Books

Rikard Laving, The Broken Lens, 2021, Blackbook Publications

Salih Basheer, 22 days in between, bladr

Tekla Inari, Iida Ylämäki / Ida Uphill, 2022, Bokeh Editions

Rose Eken, Shrine, 2018-2022, Limited Edition, BOOK LAB

Thomas Iversen, Utgått fra samtiden, on display at the Deep Reading Room, Codex Polaris

Skovbryn Øjenbryn, Edition of 200, Published by Schäfer Grafik, 2022, EKELY

Mie Olise Kjærgaard, Disobedient Muses, Forlaget AFTRYK

Anders Lee-Larsens, CTRL SHIFT END, 2023, Hurricane Publishing

Practising Water by Robel Temesgen. Designed by Neslihan Ramzi. Image by Shimelis Tadesse, Kunsthall Oslo

Ida Nissen, Scrim, Lodret Vandret

Rasmus Halling Nielsen, Tilberedelse af et menneske, Longetti

Anne Tveit Knutsen, Tvillingsong, Northing/Kinakaal forlag

Hilla Kurki, Almost All the Flowers in My Mother's Garden, PBFF (Photobooks from Finland)

Issue No. 12, Plethora Magazine

Loving Others, Othering Love, Mara Lee, Praun & Guermouche

Print & Friends

lower Drop, Introducing Molly Haslund, 2022, RSS Press

Kunsthæfte Nr. 42, Space Poetry

Bjarne Melgaard, Uten tittel

Ditte Ejlerskov, Unbreak my heart, say you´ll love me again, 2009, Woodpecker Projects

Gitte Broeng, Vis à Vis, 2021, *[asterisk]

Alex Da Corte, Rubber Pencil Devil, At Last Books

Rikard Laving, The Broken Lens, 2021, Blackbook Publications

Salih Basheer, 22 days in between, bladr

Tekla Inari, Iida Ylämäki / Ida Uphill, 2022, Bokeh Editions

Rose Eken, Shrine, 2018-2022, Limited Edition, BOOK LAB

Thomas Iversen, Utgått fra samtiden, on display at the Deep Reading Room, Codex Polaris

Skovbryn Øjenbryn, Edition of 200, Published by Schäfer Grafik, 2022, EKELY

Mie Olise Kjærgaard, Disobedient Muses, Forlaget AFTRYK

Anders Lee-Larsens, CTRL SHIFT END, 2023, Hurricane Publishing

Practising Water by Robel Temesgen. Designed by Neslihan Ramzi. Image by Shimelis Tadesse, Kunsthall Oslo

Ida Nissen, Scrim, Lodret Vandret

Rasmus Halling Nielsen, Tilberedelse af et menneske, Longetti

Anne Tveit Knutsen, Tvillingsong, Northing/Kinakaal forlag

Hilla Kurki, Almost All the Flowers in My Mother's Garden, PBFF (Photobooks from Finland)

Issue No. 12, Plethora Magazine

Loving Others, Othering Love, Mara Lee, Praun & Guermouche

Print & Friends

lower Drop, Introducing Molly Haslund, 2022, RSS Press

Kunsthæfte Nr. 42, Space Poetry

Bjarne Melgaard, Uten tittel

Ditte Ejlerskov, Unbreak my heart, say you´ll love me again, 2009, Woodpecker Projects