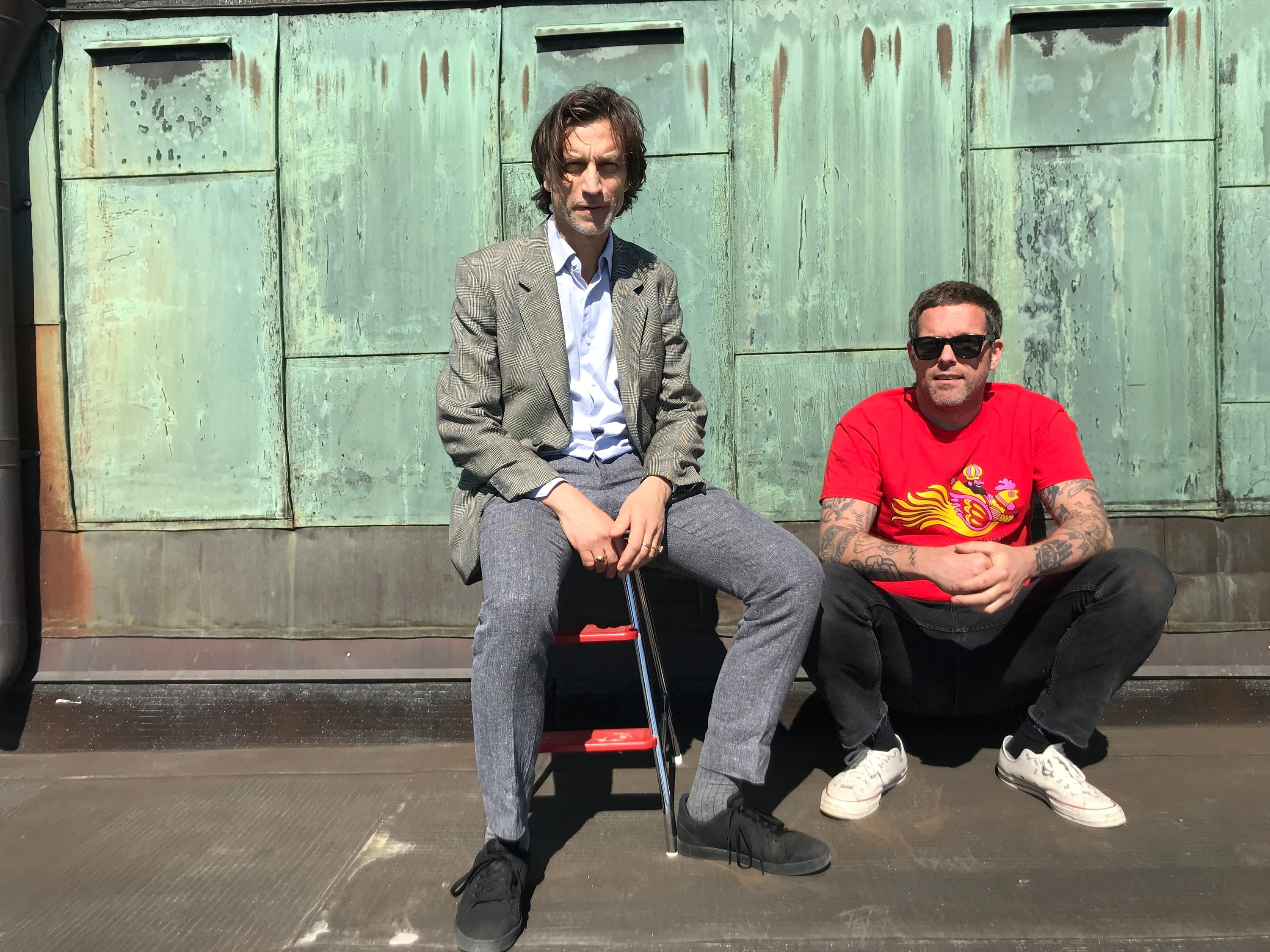 Jockum Nordström is one of the most prominent artists in Sweden. He has also written children's books and designed album covers. His work is in the public collections of the Museum of Modern Art, New York and many other prominent collections.
Joakim Åhlund is a musician, song writer, producer and music video director. He is the lead guitarist and main songwriter of the Caesars, and Teddybears, Smile and Les Big Byrd.
Jockum and Joakim met for the first time back in 1998 when Joakim contacted Jockum to ask him to make the album art for his band The Caesars, or Caesars Palace as they called themselves back then. The two have also been making music together as "Joakim Åhlund and Jockum Nordström" for close to 15 years and have released 3 full length albums and a couple of singles since 2012. They conjure up wonderfully wobbly, off kilter instrumental jams. They have the feel of a 1930's Mississippi juke joint or a 50's after hours jazz club jam without ever feeling nostalgic or backward looking. Groove driven, bass heavy, boom bap drums and otherworldly samples that keep it out of the mud.
To put their friendship under the microscope I grilled them in the style of 1970's TV quiz show, Mr and Mrs. In this case Mr Jockum and Mr Joakim. In the TV show one half of the couple would answer questions, guessing how their better half would answer, while their partner was in a soundproof glass booth with massive headphones on. They would then come back to join their partner and answer the same questions. They won prizes based on how many answers they managed to match. In this case the interviews were conducted by text message and cobbled together in word. The tough questioning reveals whether the sweet music they make together goes beyond the studio and the stage.

Jockum and Joakim in Mr and Mrs
Artwork by David Risley

Artwork by David Risley

Artwork by David Risley

Artwork by David Risley

Artwork by David Risley

Artwork by David Risley

Artwork by David Risley

Artwork by David Risley
Joakim, I want you to imagine how Jockum would answer the following questions. When and where would Jockum visit if he could?

A. 1950's nyc jazz club. Bird. Miles. Monk.
B. Early blues juke joint Mississippi delta. Johnson. Blind Lemon. Leadbelly.
C. Detroit 1960's. MC5. Stooges.
Pretty sure Jockum would go for B on this one.
Ok Joakim, you look confident. Let's ask Jockum what his dream gig would be?
I would go to see and hear Charlie Parker, Monk and Miles. I really love Bud Powell from that time. He has been important to me for 30 years.
Oh no, off to a bad start, you're wrong Joakim. Let's try again. Jockum can take a holiday. Where does he choose?

A. A tropical island paradise. Golden beach. Turquoise ocean. Hammock and cocktails.
B. Skiing in the mountains.
C. A romantic time in Paris. Fine dining. Museums. Luxury hotel. Spa treatments.
Haha none of these but if he had to choose I'd say C. But the spa treatments make it tough though haha.
Ok, let's bring Jockum back in. Jockum, would you like a beach holiday, skiing, or a romantic city break?
I think it's nearly the same question, all three. I'll take the ski trip. But today my knees are shit, so I can't do it in reality.



Wrong again Joakim, are you sure you've met him before? Last question. You and Jockum have an argument. Nothing serious but enough for some uncomfortable silence in the studio. Who fixes it?

A. You apologize Joakim.
B. Jockum apologizes.
C. You both just pretend it never happened and hope it goes away.
We'd both apologize. But ok, I have to choose so I'll say B.
I think you'll have plenty to apologise for after this quiz. Let's hope you get this one correct. Jockum, who apologises?
C. It goes away.
You got all 3 wrong Joakim. I think you need to spend a bit more time together. Now let's see how well Jockum knows Joakim. Joakim goes into the sound proof box and puts on the enormous ear defenders. Jockum, answer these questions as you think Joakim would. Joakim unexpectedly has a Friday night on his own with no responsibility and nothing to do. What does he do?

A. Run a hot bath, order some pizza, watch Sex and the City on Netflix in bed and fall to sleep before 10.30.
B. Put his fishing gear in the car, go out in the boat and catch some mackerel.
C. Go to his favourite bar and have no idea what happened until next Tuesday.
Definitely B or C. But he has no driving license, like me, so he has to go to the boat or the bar. If he went to the bar last time, he would go fishing. And vice versa. Joakim likes to eat fish. He likes herring the most.
Ok, let's ask Joakim. Netflix and chill? Fishing trip or get wasted?
It's definitely C. Go to my favourite bar.
Ok Jockum, not bad. Next question: Joakim is making a salad. Do you prefer:

A. The big soft outer leaves.
B. The crispy heart in the centre.
C. A mixture of both.
C, no doubt. (A mixture of both).
No, it's A, just the soft leaves.
Last question. It's going quite badly so far, let's hope the music is more harmonious than the friendship. Joakim can see one of the following play live, in their prime. Who would he choose?

A. Spacemen 3.
B. The Byrds.
C. Larry Levan at Paradise Garage NYC.
Joakim would go to see The Byrds, if he got the chance.
Fuck, that is a tough one. Is it the Byrds today or 1967?
All in their prime. Best gig they ever played. With Gene Clark.
Ok, then it has to be the Byrds, 1967.
Your collaboration, is it inside or outside what you normally do?
I think it's inside.
It's a real fun part of what I do and an important one.
Are you a jam band?
We are a jam band, I'd say yes, there's definitely an improvisational element to what we do, especially live.
We're not always a jam-band. But we like to jam, of course. It lights the head up. If you're lucky something meaningless and magic can occur.
Do you do it for each other or an audience?
We do it mostly for ourselves and for our time together. But when we're playing for an audience. The audience is important, and we play for them in the same time.
We do it for each other and for ourselves I'd say. An audience is a great bonus if there is one but it's not necessary.
Which is better? Art or music?
Art and music. Without them everything is hopeless. For me the pictures, images and art always have been the core, the main thing to express myself. Since I was a kid. I like to be alone. And I like to look at other people's pictures too.
Music is better than art for me, but then again I think music is art.
Jockum, would you like to be a musician?
If I have to choose. Then I'm an artist. I have to draw, paint and do slowly things with my hands.
Joakim, would you like to be an artist?
I'd love to be an artist. And I do a lot of different types of creative stuff, so I guess one could state the case that I actually am one too in some sense. And I know for a fact that Jockum is a musician for sure.