This year we were thrilled to receive the largest number of submissions for CHART Architecture to date!

For the past few weeks, our specialist competition jury has been reviewing proposals for innovative structures to be installed in the heart of Copenhagen during this year's CHART, 24—27 August. We are excited to announce that the finalist teams have now been selected.

Responding to the theme New European Bauhaus, each team has conceptualised an architectural project that foregrounds the three principles of sustainability, aesthetics and inclusion, as well as incorporating elements of universal design.

Over the coming months, each team will develop their proposal with close support from our partner ARUP, before preparing for the build-up in August. We can't wait for their structures to take shape inside the iconic courtyards at Charlottenborg. Here they will play a crucial role in establishing the broader social environment in which CHART takes place.

The CHART Architecture 2023 finalists are:
Off-The-Shelf by Plan Noll (Anton Boman, Jonathan Lindberg and Matthew Wilson)

Komorebi by Joanna Maria Lesna, Paola Gonzalez Marquez and Izabella Banas

Ruin by Thomas Røn Jensen, Kathrine Vand and Sebastian Siggaard

Habitat by Martin Viggo Meincke and Astrid Marie Strandbygaard.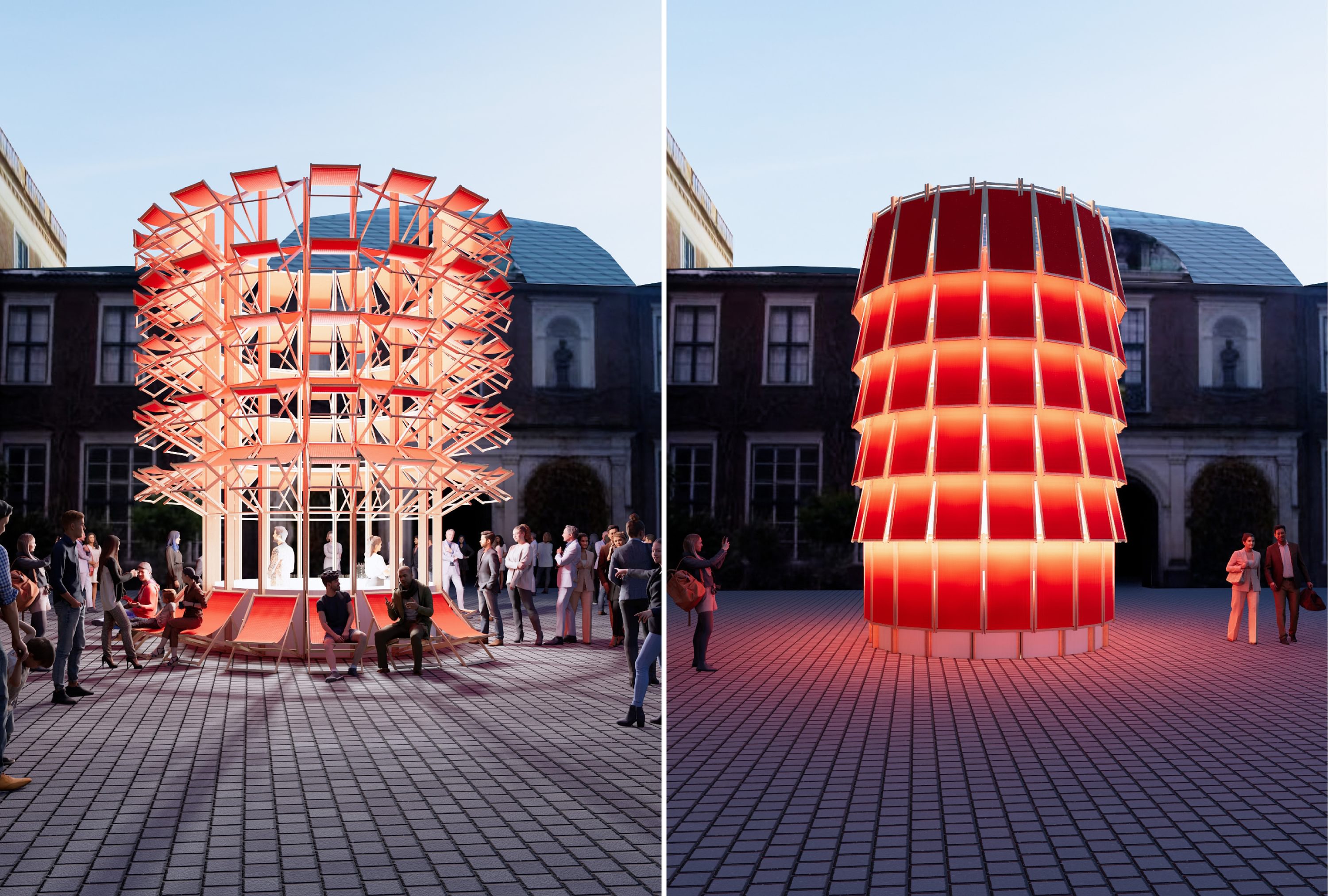 Selected as finalist for CHART Architecture 2023
Petal is a playful structure, assembled from simple sun lounge chairs in a cylindrical arrangement, that mirrors the changing appearance of a flower between day and night. During the day, the structure appears "in full bloom" when the sun loungers are opened up to provide access to a 360 degree bar and seating area. At night, the chairs collapse to form a screen for colour or graphic projections.

Petal will host a bar in collaboration with one of CHART's food and drink partner organisations during CHART 2023. Designed to be adaptable and easily disassembled, this proposal showcases how sustainable design can be beautiful, functional and responsible.

The team behind Petal is made up of Juras Lasovsky and Hanna Johansson. Together they form Lasovsky Johansson Architects.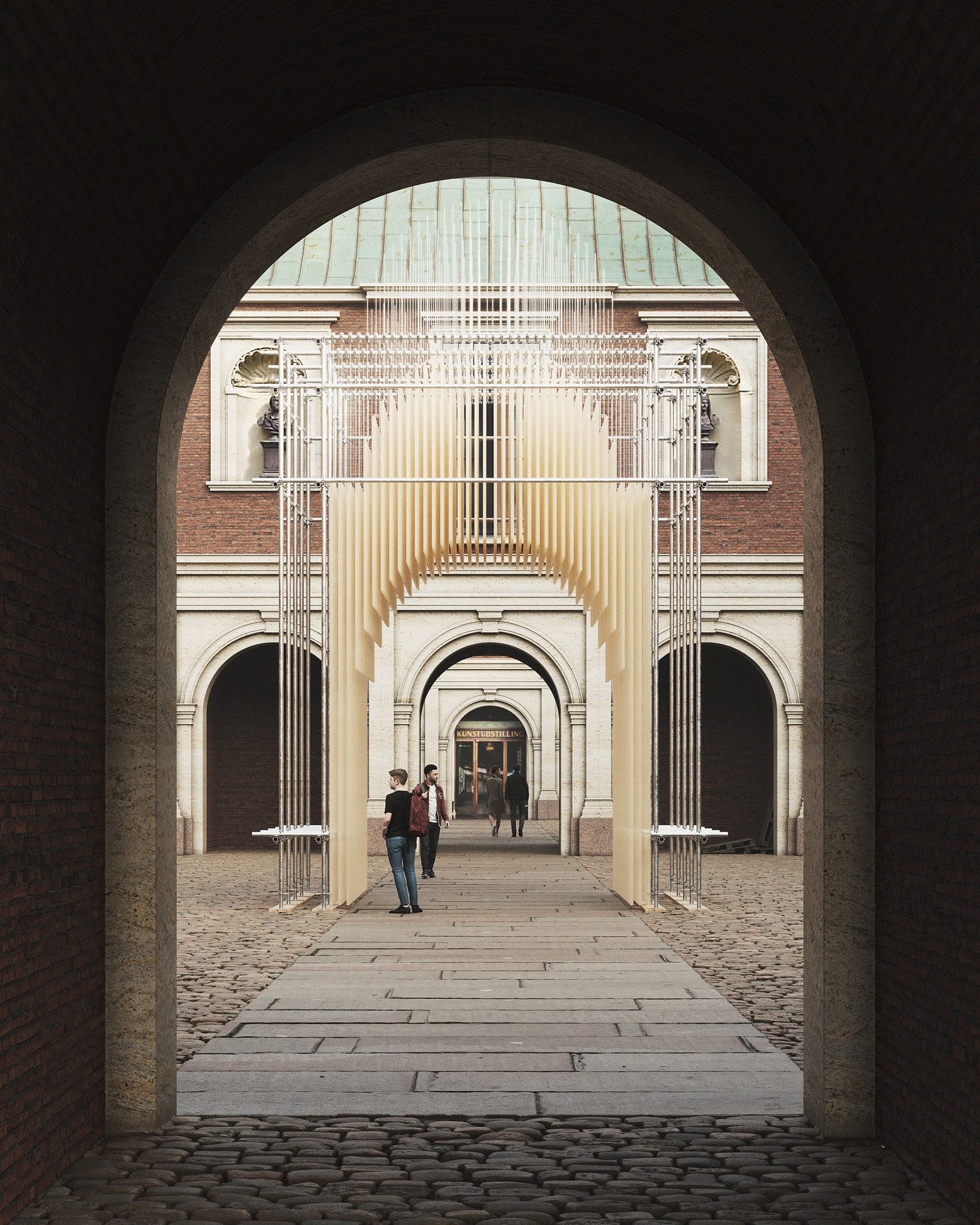 Selected as finalist for CHART Architecture 2023
Off-The-Shelf proposes a new archway inside the courtyards at Charlottenborg building on the principles of compression/release already at play, to create a dramatic and immersive experience for visitors at CHART 2023.

Functioning as a meeting point inside the busy courtyard, the structure foregrounds the aesthetics of a baroque palace, but achieves this appearance using "off-the-shelf" materials including corrugated fiberglass sheets and galvanised steel scaffolding standards.

By focusing on unprocessed and readily available materials, this proposal ensures that all of its constituent parts can be reused in future projects. In its proposed state, Off-The-Shelf makes direct reference to the existing architecture at Charlottenborg, including cornice details and the Tuscan/Doric portal at the far end of the courtyard, to create a "contextual but foreign object" that encourages viewers to actively observe and engage.

The team behind Off-The-Shelf is made up of Anton Boman, Jonathan Lindberg, and Matthew Wilson. Together they form Plan Noll.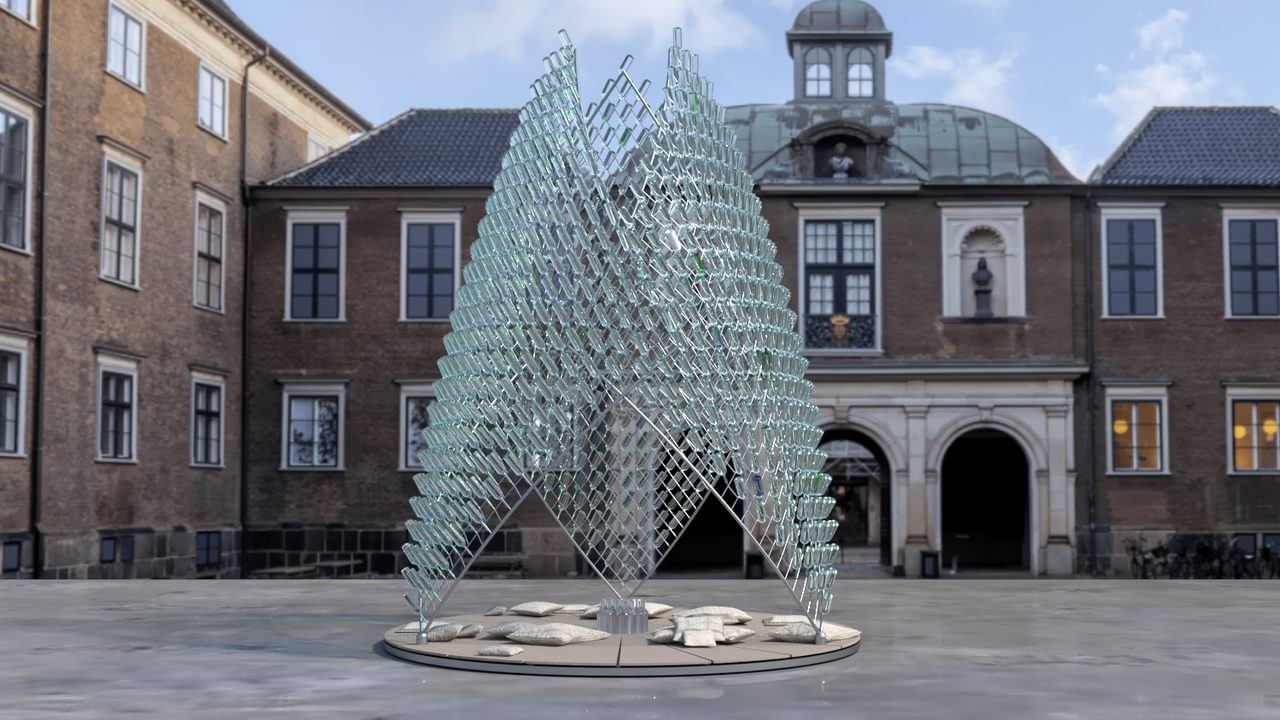 Selected as finalist for CHART Architecture 2023
Komorebi is imagined as an inhabited sculpture taking inspiration from Marcel Duchamp's "Readymade Series." The project seeks to create using pre-existing material, in line with a more sustainable approach towards thinking and building.

The structure is composed of a recycled steel grid with multiple reused glass bottles stacked on top of it. Komorebi will evoke the classic bottle rack seen in restaurants and will provide a recreational area at this year's CHART.

Together the mesh and bottles will create a gentle folding structure, providing a space for rest whilst also achieving the "komorebi effect" used to describe the dappled light conditions achieved when sunlight filters through the leaves of trees in a forest.

The team behind Komorebi is Joanna Maria Lesna, Izabella Banas and Paola Paola Gonzalez Marquez and the concept is made by Thomas Enee, Joanna Maria Lesna and Miguel Rebelo.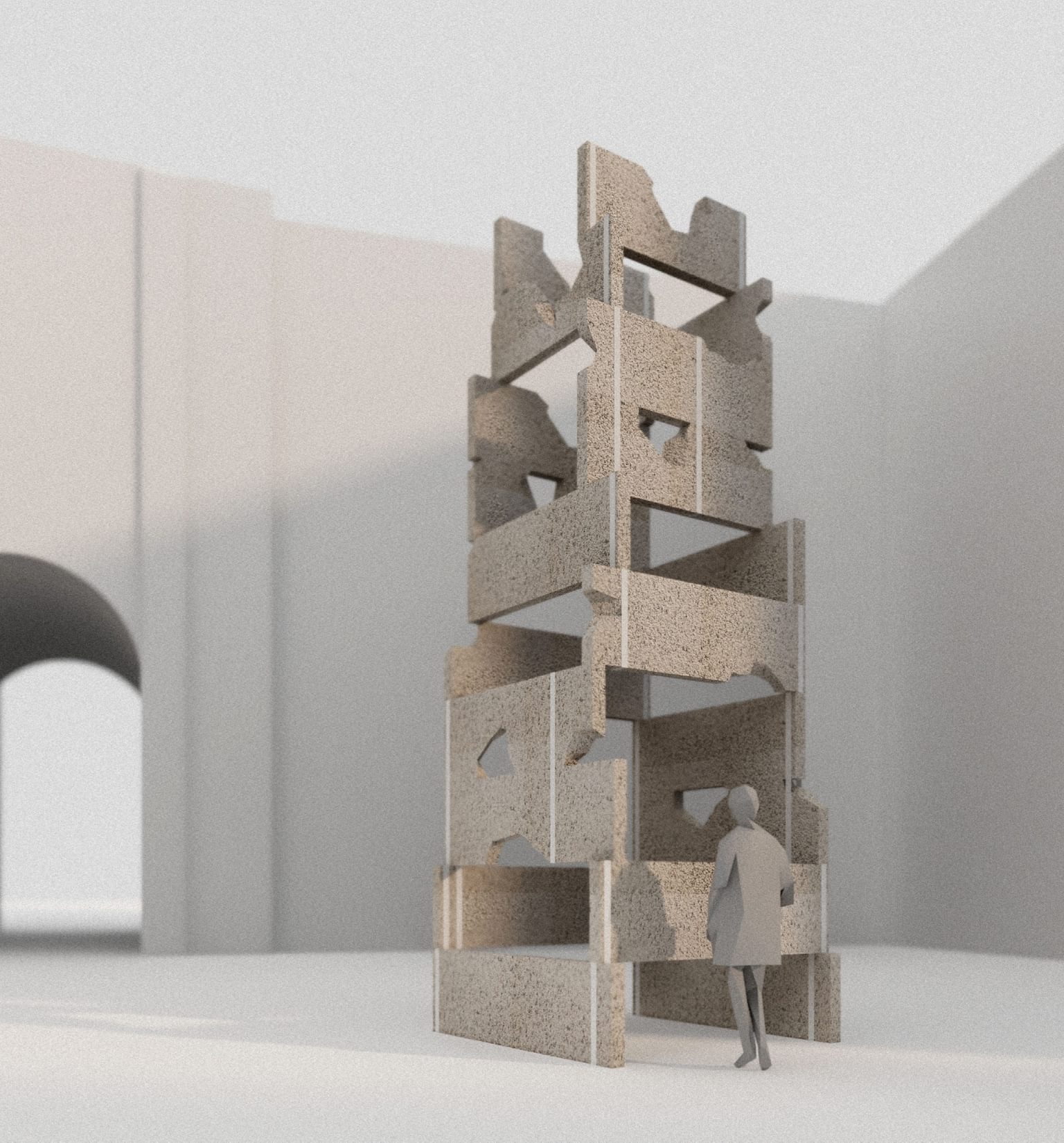 Selected as finalist for CHART Architecture 2023
Ruin plays with the idea of a decayed and cracked column, eagerly awaiting the collapse and destruction of the old world. Barely holding itself together, the structure symbolises the current paradigm shift in architecture, where focus has moved away from economic gain towards principles of sustainability, aesthetics and inclusivity.

Ruin is both a symbol for one era ending and a new one beginning, with architecture serving as a powerful catalyst for positive change in society. The structure will also serve a key social function at CHART 2023 in collaboration with one of CHART's courtyard partner organisations.

By using hemp blocks, the structure will be a simple and static composition. Furthermore, this material possesses a tactility, evoking thoughts of weathered Parisian limestone.

The structure can be transported on a standard pallet, where the hemp blocks are fastened to each other with tension straps, allowing for easy assembly and dismantling.

The team behind Ruin consists of Thomas Røn Jensen, Kathrine Vand and Sebastian Siggaard. Sponsored by Cetonia and Sydhavnen A/S Grenaa. All hempcrete panels are produced by Hempcrete ApS.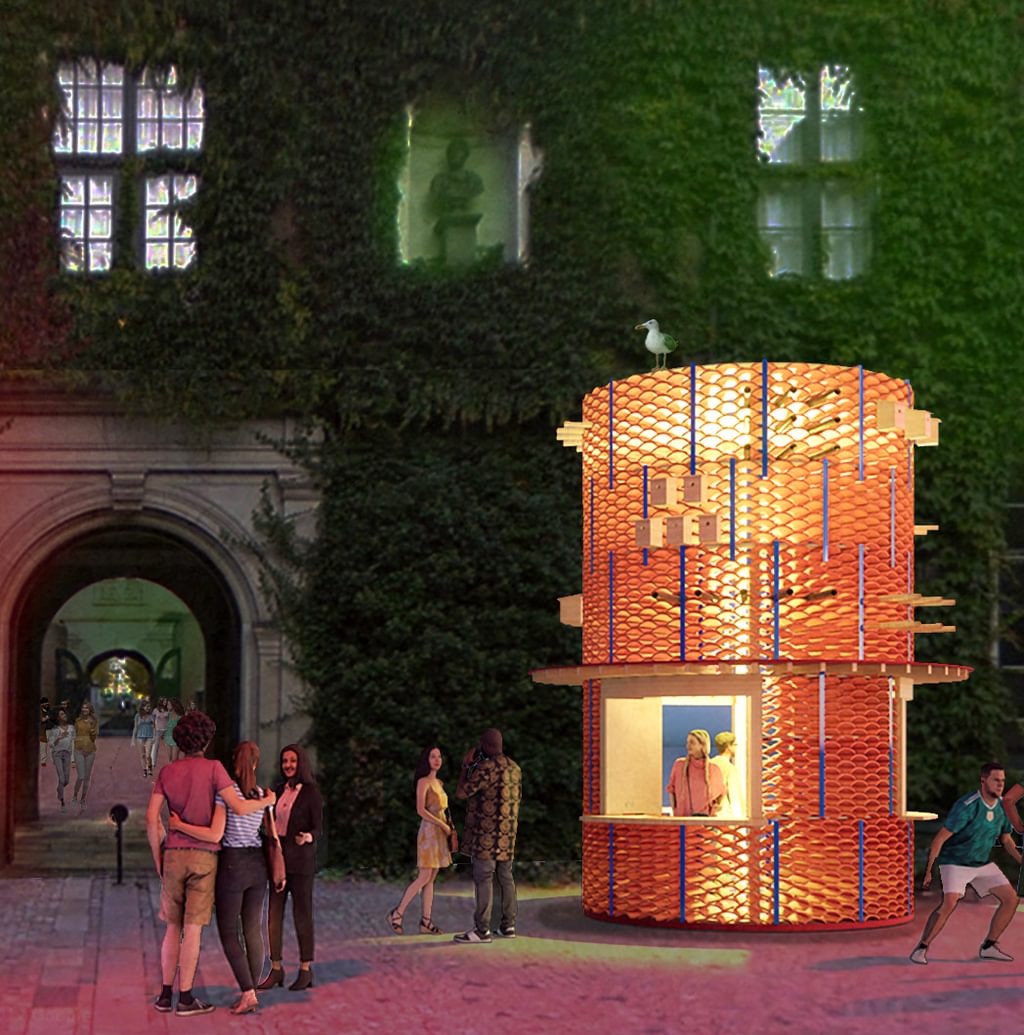 Selected as finalist for CHART Architecture 2023
Habitat pays homage to historical and universal building materials whilst incorporating a bio habitat into its upper layer, thus welcoming all species to use this structure as a resting place and social environment.

Made from leftover materials from demolished buildings and renovation projects, the walls of Habitat are formed by weaving together s-shaped clay roof tiles - a dynamic building material that has been a staple of European architecture for 800 years.

Habitat aims to encourage viewers to reflect on the diverse ways in which universal building components can be reimagined for new contexts, focusing on ideas of reuse and multi-functionality. During CHART, the structure will accommodate a bar inside the courtyards at Charlottenborg.

The team behind Habitat is formed of Martin Viggo Meincke and Astrid Marie Strandbygaard, in collaboration with Enemærke & Petersen, STARK og Raunstrup.
We would like to express our gratitude towards each of the organisations who have partnered with us for CHART Architecture 2023.
CHART Architecture is made possible by the generous support of the philanthropic association Realdania as well as Københavns Kommune, Dreyers Fond, Beckett-Fonden, FOSS, Bevica Fonden, Polestar and Arup.

We are also proud to partner with World Capital of Architecture 2023, BLOX and Dezeen.

And our warmest thanks go out to this year's jury: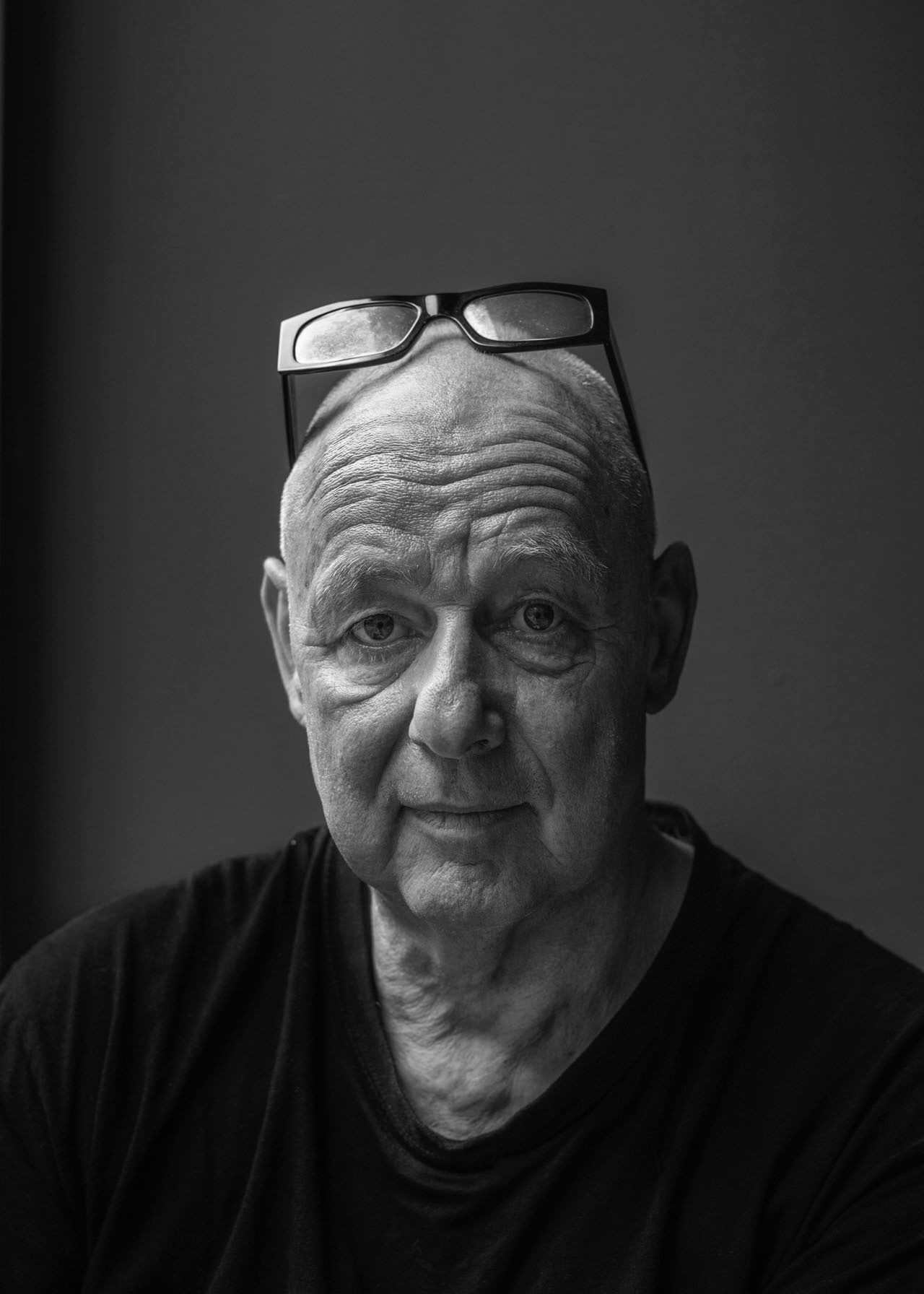 In 1977 the Swedish architect Gert Wingårdh founded Wingårdhs, of which he is still the owner and creative leader. Since its founding, the quality of the office's large production has generated many prizes and awards both in Sweden and internationally. Some of Wingårdhs more esteemed projects include: the Swedish embassies in Berlin and Washington, the extension of the Liljevalchs Konsthall in Stockholm and the renovation of the Swedish National Museum. Gert Wingårdh is also a professor at Chalmers University of Technology and a member of the Royal Academy of Sciences and the Royal Academy of Fine Arts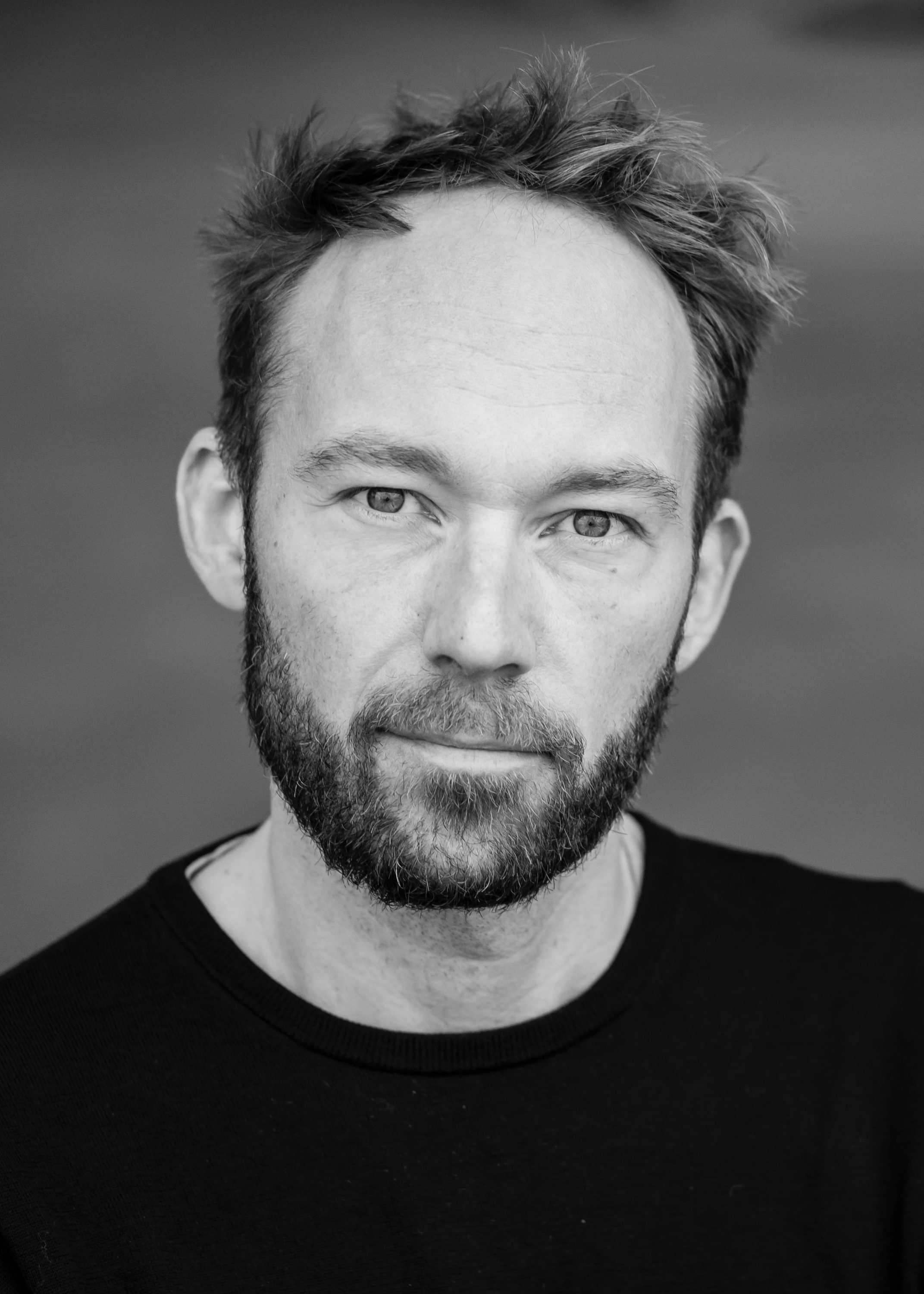 Anders Lendager is an architect, CEO and founder of Lendager - one of the most influential architecture studios and strategic consultancies working within the realm of sustainability and circular economy. Across various projects throughout the past ten years, his work has consistently been guided by a focus on change-making in the built environment, and a deep understanding of the potential for using architecture as a process to initiate climate action. Lendager graduated from the Aarhus School of Architecture and is represented on the board of the Danish Association of Architectural Firms, as well as committees such as UNDP SDG Accelerator.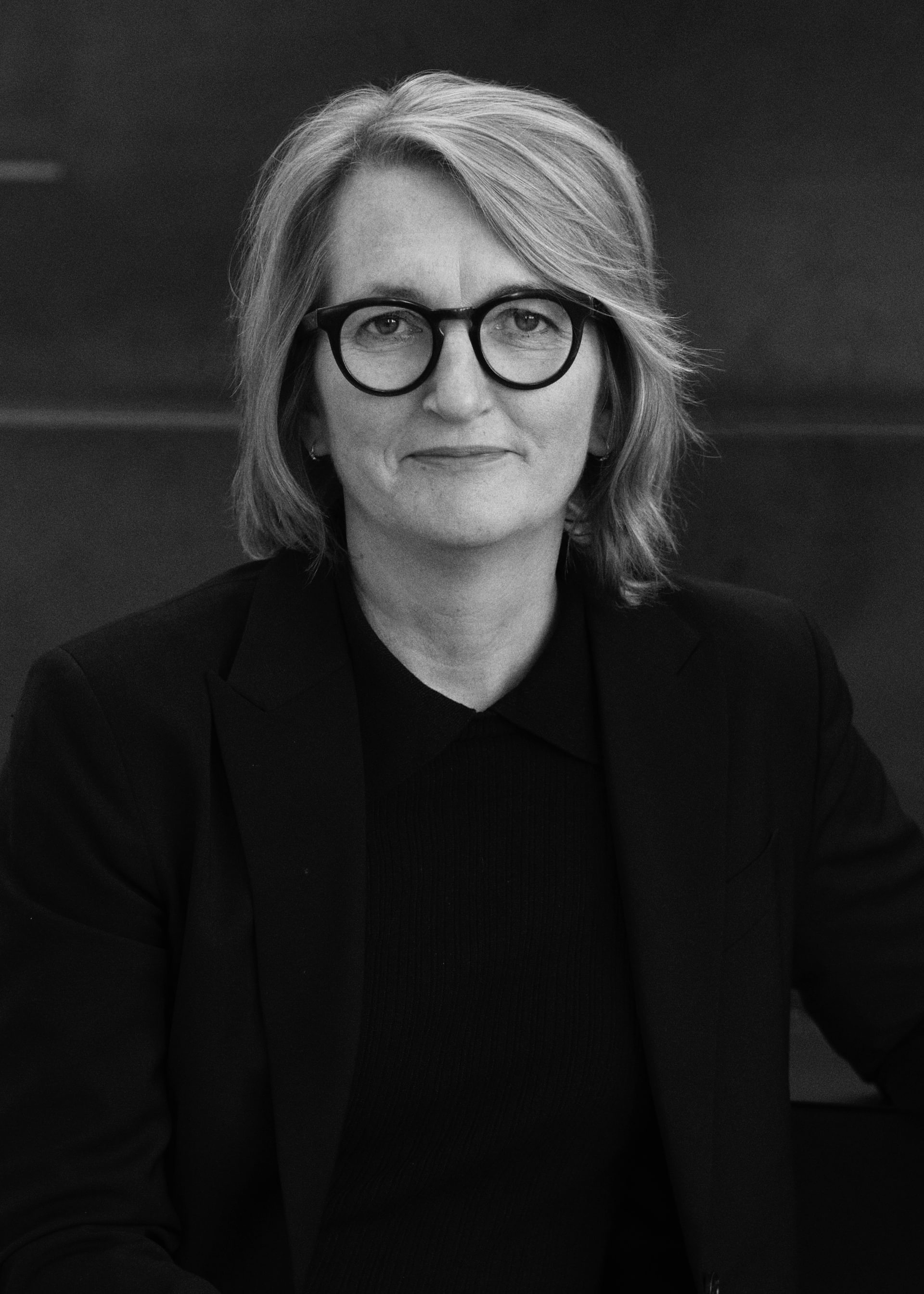 Lise Gandrup Jørgensen is partner and project director of Danish architecture studio Dorte Mandrup. Before completing her master in architecture at the Royal Danish Academy of Fine Arts in 2000, she worked as a construction engineer. With more than 20 years of experience from renowned studios like Lundgaard & Tranberg, Henning Larsen and Dorte Mandrup, Lise has overseen several complex international projects from sketching to completion and handover, bringing together architecture and engineering with many other disciplines. Her portfolio includes award-winning projects such as SEB's Headquarters in Copenhagen and the SDU Campus in Kolding.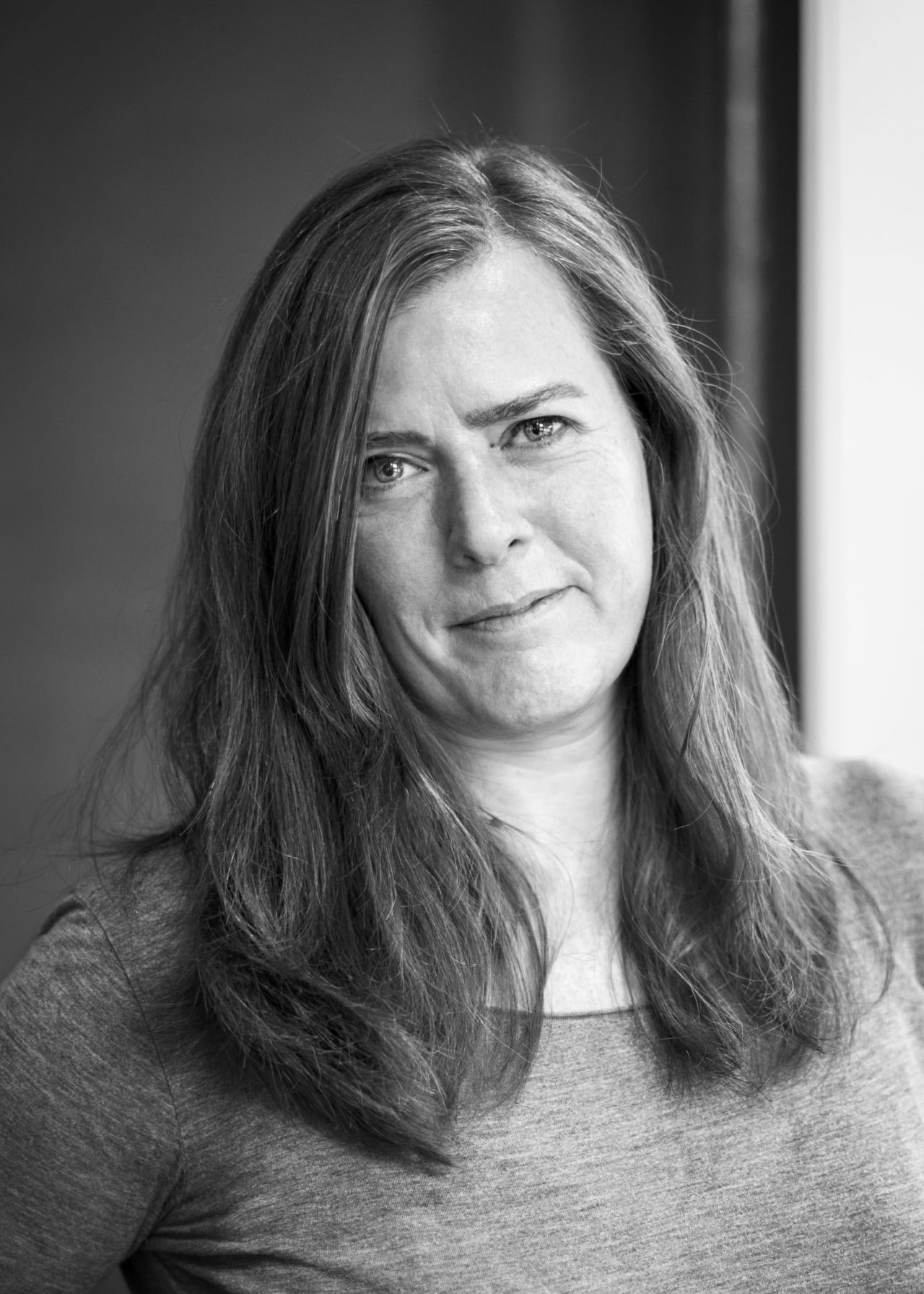 Camilla Ryhl Ph.D is an architect, specialising in the sensory qualities of architecture as well as the interpretation and implementation of universal design as a multidisciplinary value-based ethos. Ryhl has over twenty years of experience as a researcher and educator in such roles as Senior Researcher and Head of the Universal Design Research Group at BUILD Aalborg University, Fulbright Scholar at UC Berkeley, and as Professor in Universal Design at Bergen School of Architecture. She is currently Research Director at the Bevica Fonden and Head of the Universal Design Hub.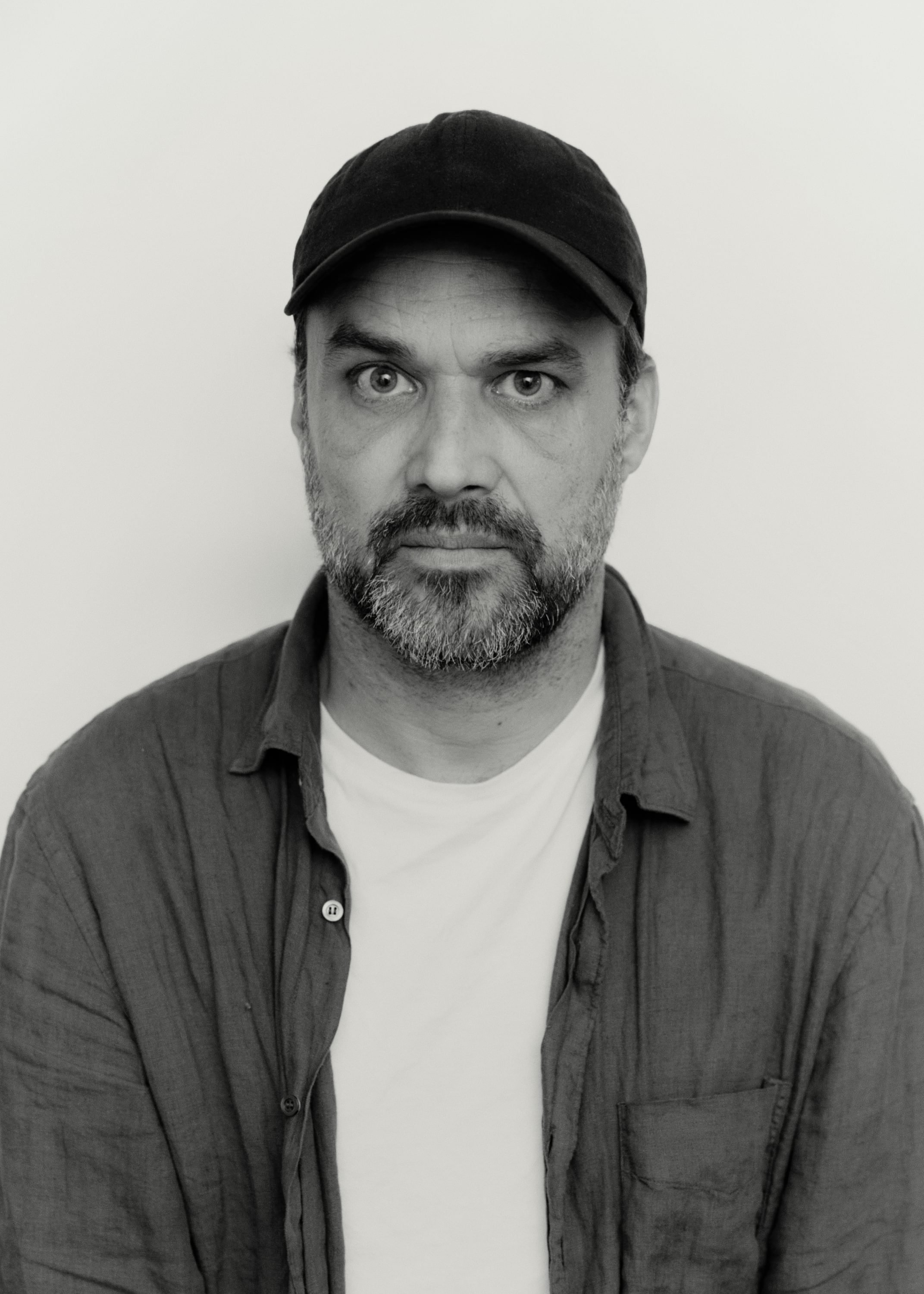 Ebbe Stub Wittrup is a contemporary artist based in Copenhagen. He graduated from the Academy of Fine Arts in Prague in 1999, and in 2010 received the Danish Arts Foundation's prestigious three-year working grant. Between 2013 and 2019, Ebbe Stub Wittrup was associate professor in media art at the Jutland Art Academy. His work is represented in numerous public collections including: Albright-Knox Gallery in New York, SMK – The National Gallery of Denmark, ARoS Aarhus Art Museum, the Danish Arts Foundation, Carlsberg Foundation, The National Museum of Photography, Thyssen-Bornemisza Contemporary Art Foundation, Austria, and Faulconer Gallery, USA.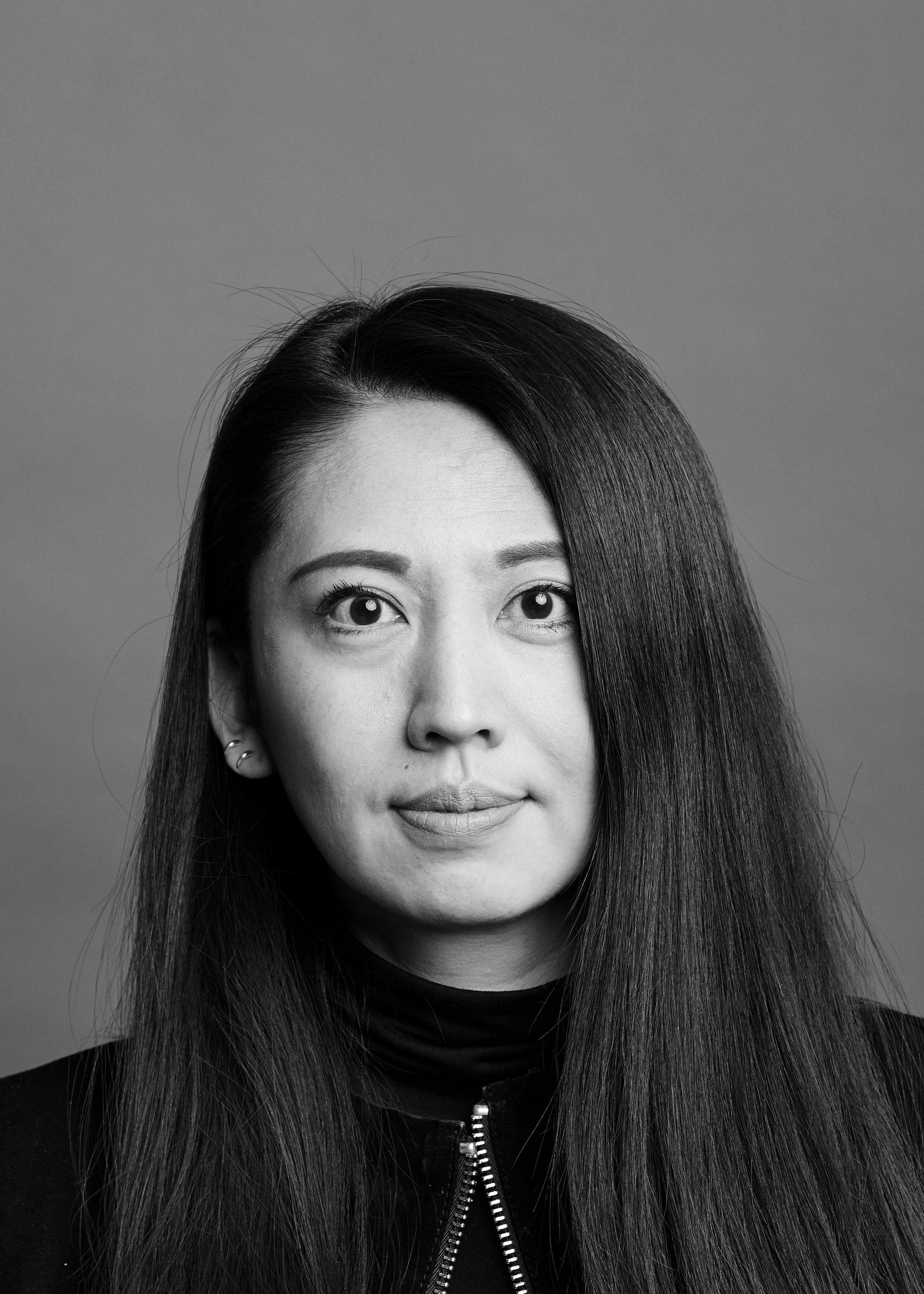 Rong Guan is an accomplished interior designer and in-house architect at Polestar, whose work to-date includes the design of 50 Polestar Spaces across the globe. Having previously worked as Senior Lead Architect for Hirsch Bedner Associates Studio in Shanghai, Rong joined Polestar in 2017 and set out to apply her experience and flair for designing spaces to creating a retail concept built from the ground. A keen interest in all types of design, from product to fashion and art, led Rong to study Architecture at Chalmers University of Technology in Gothenburg, with additional study at the Chinese University of Hong Kong.