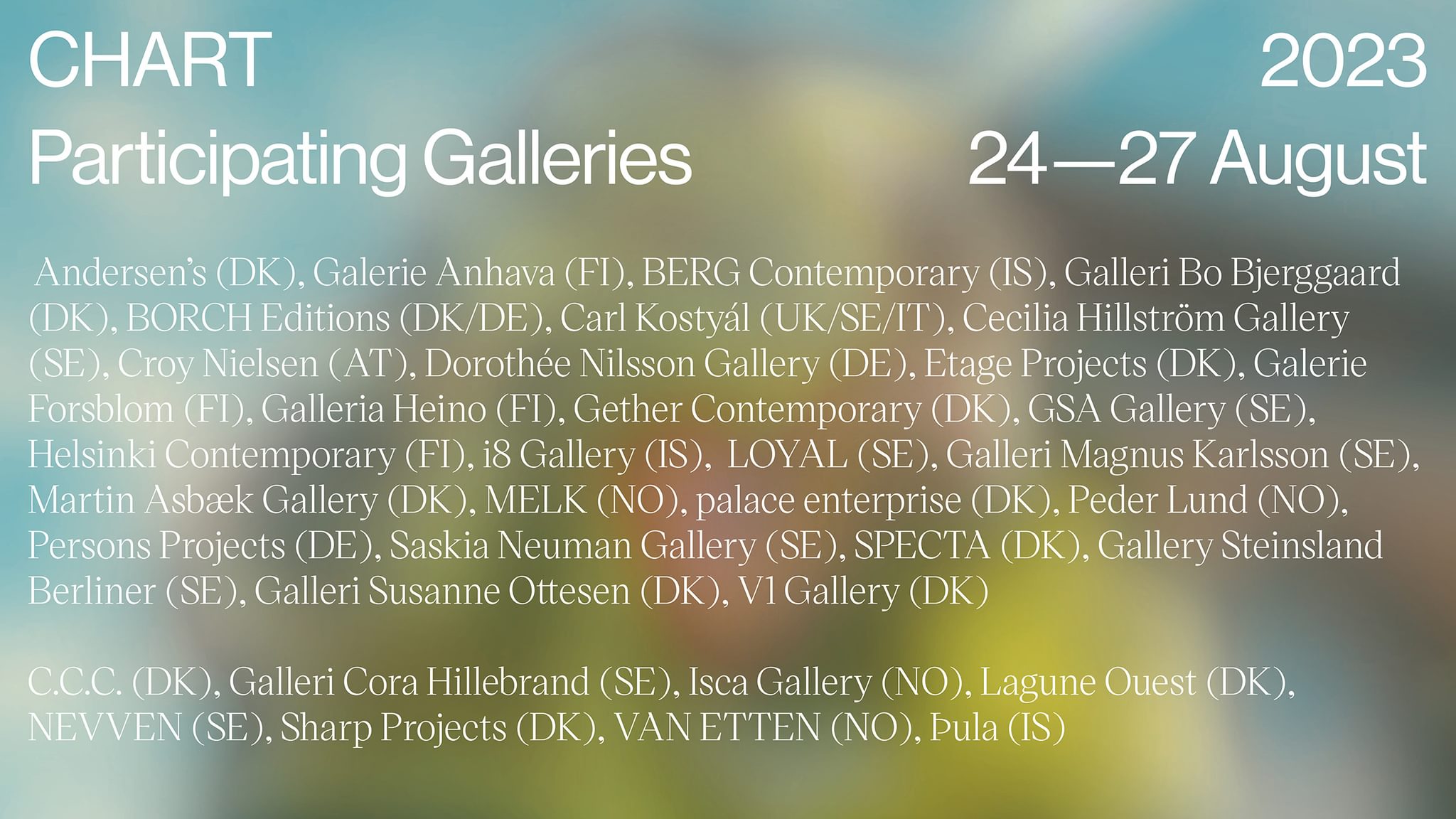 CHART 2O23 Participating Galleries
Each year, we present an art fair with the leading galleries in the region, alongside younger galleries with more emerging programmes, an art book fair, a vast live programme of talks, performances, films and music, a site-specific sculptural exhibition in the iconic amusement park Tivoli Gardens, as well as ongoing editorial releases. Building on Copenhagen's strongholds of art, design, and architecture we explore artistic crossovers and bring the arts community together in all its diversity.

Uniting the Nordic art scene and providing a platform for the very best of contemporary art in the region, we are proud to present a full list of galleries that will be joining us at Charlottenborg this August
Head over to Exhibitor pages to find out more
A new initiative for first-time collectors
CHART 2023 will have a specific focus on opening up the discussion surrounding collecting art. We want to make the purchasing process more transparent and encourage new collectors to participate, at all levels.
As part of this focus, we are proud to announce a new curated exhibition that will take place in the foyer at Charlottenborg during this year's fair. Entitled 'Start Collecting with CHART,' the exhibition will feature contributions by established international names and emerging artists alike. Each of the galleries at CHART 2023 has been invited to select a work by one artist from their programme. The works included in the exhibition will all be for sale through the galleries and will be priced under 20.000 DKK / 2700 EUR.


If you are interested to start purchasing art, this is the perfect place to begin your collecting journey!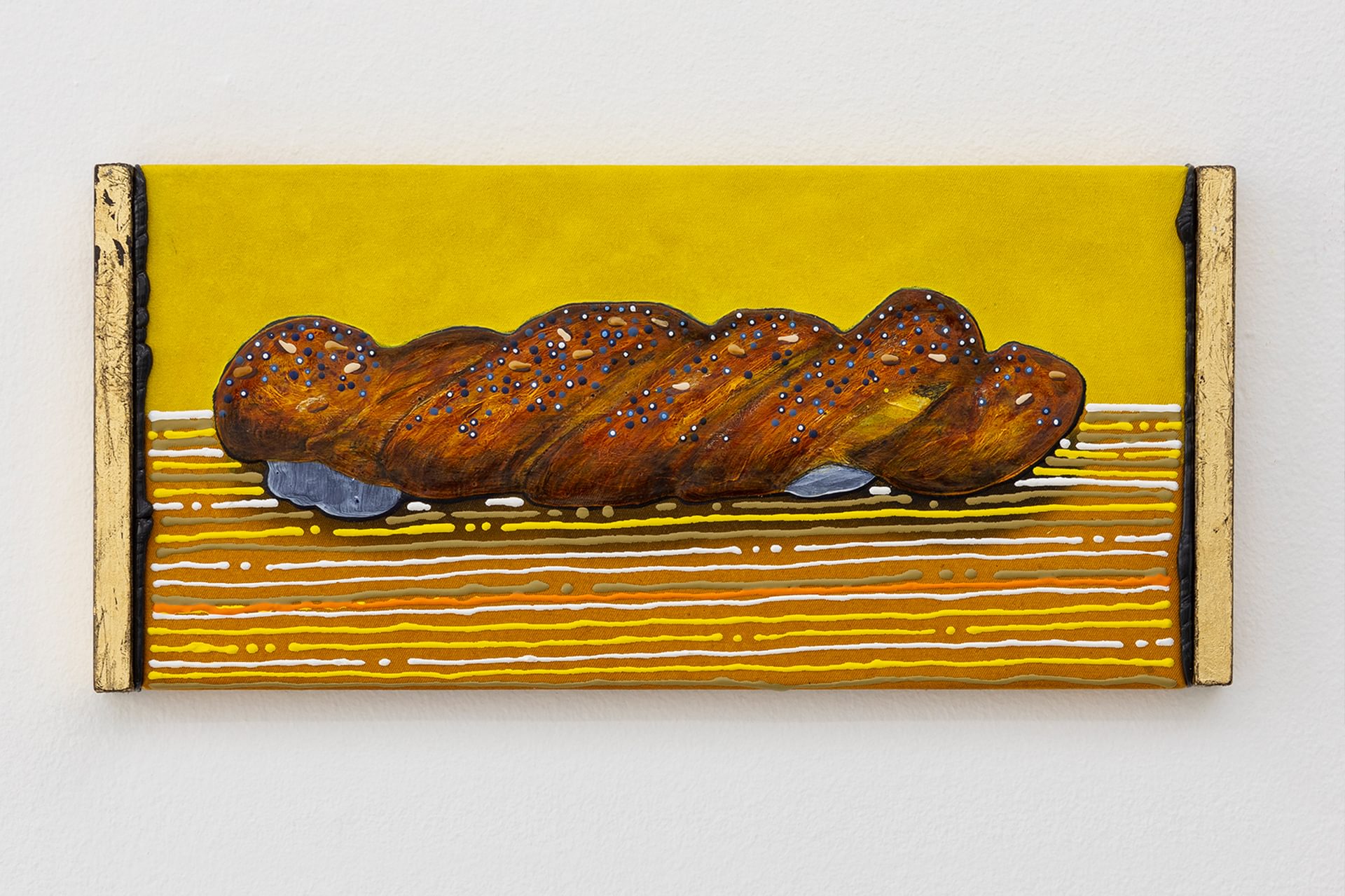 Courtesy of the artist and palace enterprise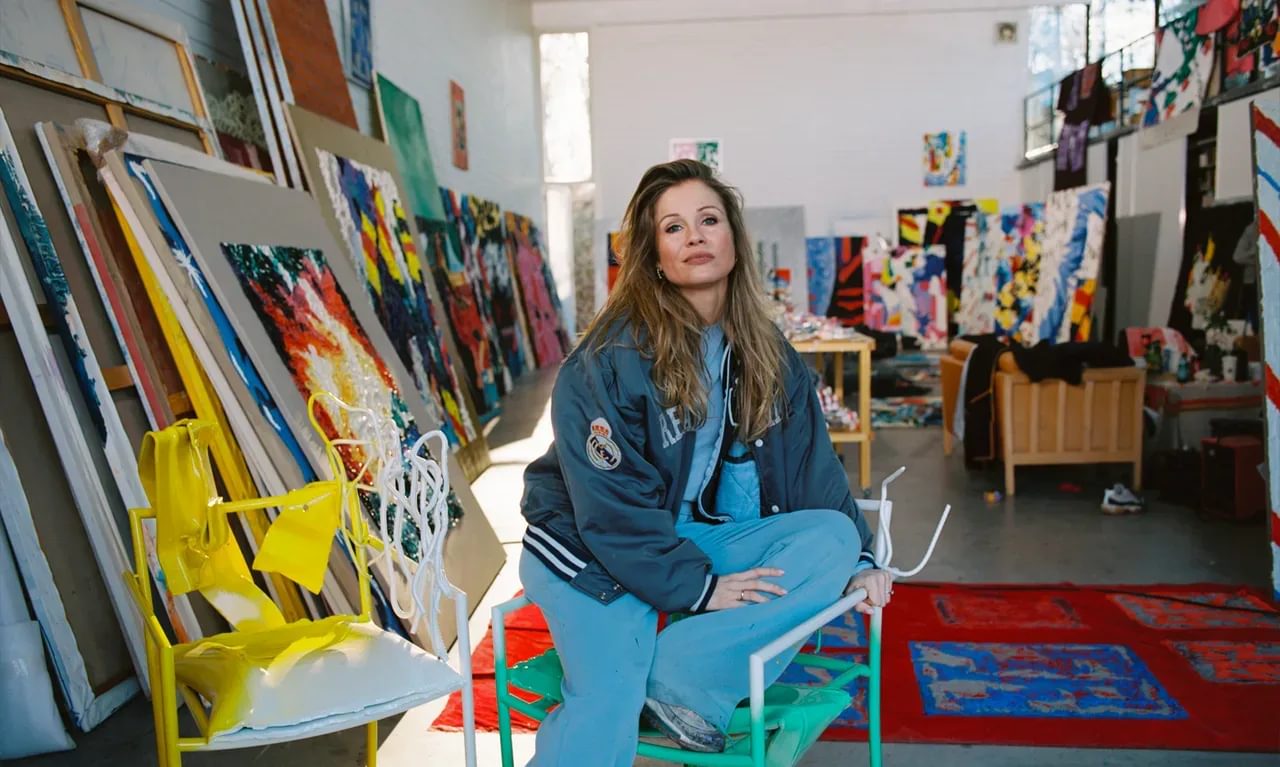 CHART 2O23 Participating Artists
This year's art fair at Charlottenborg will feature more than 100 artists presented by 37 leading exhibitors from across the Nordic region.
For CHART 2023, we are thrilled to include presentations by artists whose work spans the full range of contemporary artistic practice. Highlighting the latest developments from across the Nordic region, at this year's CHART you will find everything from traditional media to new experimental approaches.
Look forward to presentations by established international artists such as Catherine Opie (US), Ragnar Kjartansson (IS), Klara Kristalova (CZ/SE) and Fiona Tan (ID), as well as works by a new generation of artists including Sandra Mujinga (CD/NO), Giorgio Celin (CO), Cecilia Fiona (DK) and Tora Schultz (DK).
Head over the Exhibitor pages to find out more
CHART in Tivoli
CHART in Tivoli presents a fresh perspective on traditional exhibition formats. By placing artworks in the context of the historic amusement park Tivoli Gardens, the project offers a new opportunity to broaden the audience for contemporary art.
For the first edition of our collaboration, we produced a unique exhibition with 15 leading contemporary artists. Each artist's work was integrated into the landscape of the park, creating a new context for the works as well as for many of Tivoli's most iconic sites.
Following last year's accomplishments, we are excited to announce a 3 year extension to the collaboration. Get ready for the return of CHART in Tivoli this August with a brand new exhibition of site-specific artworks.
Find out more about the artists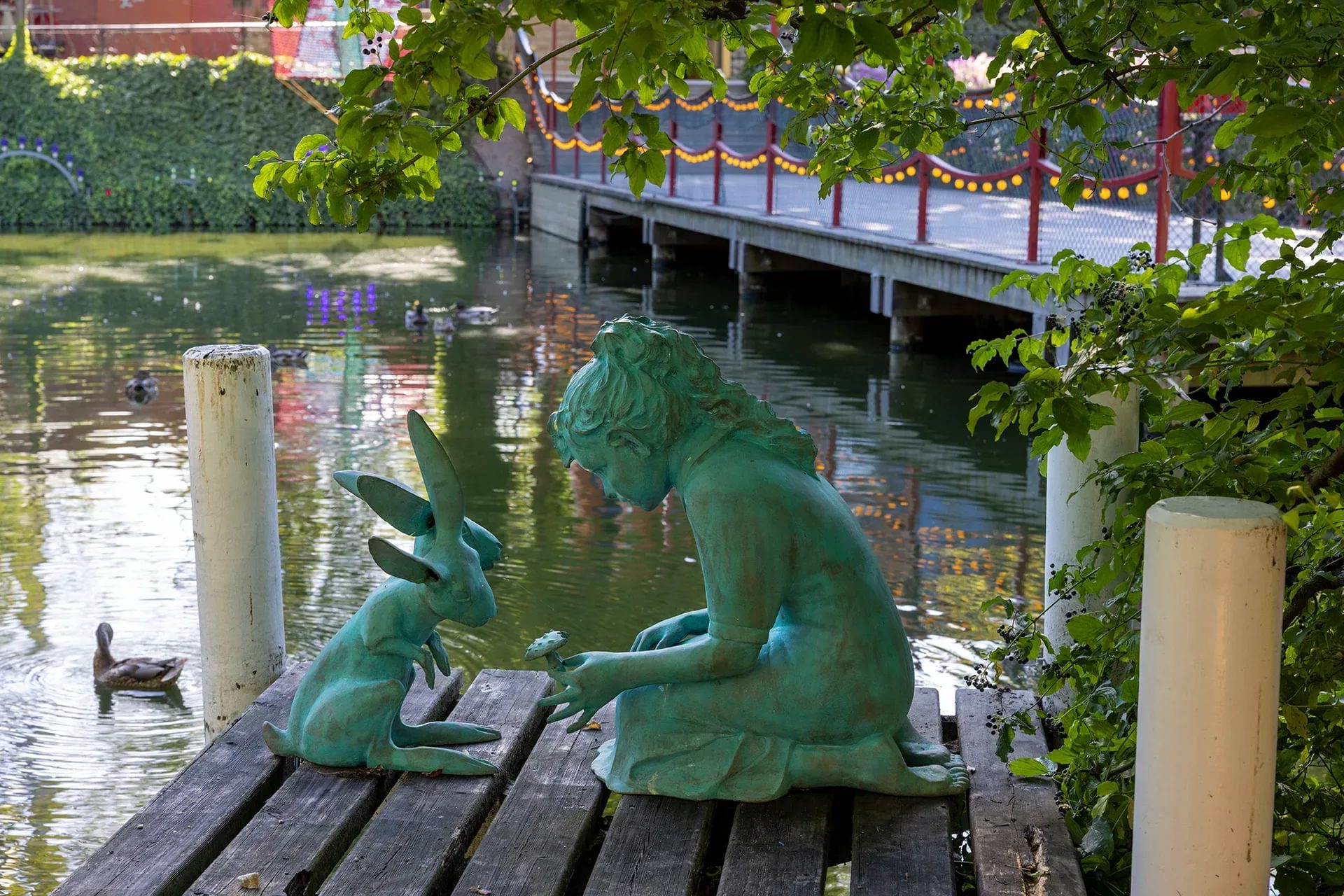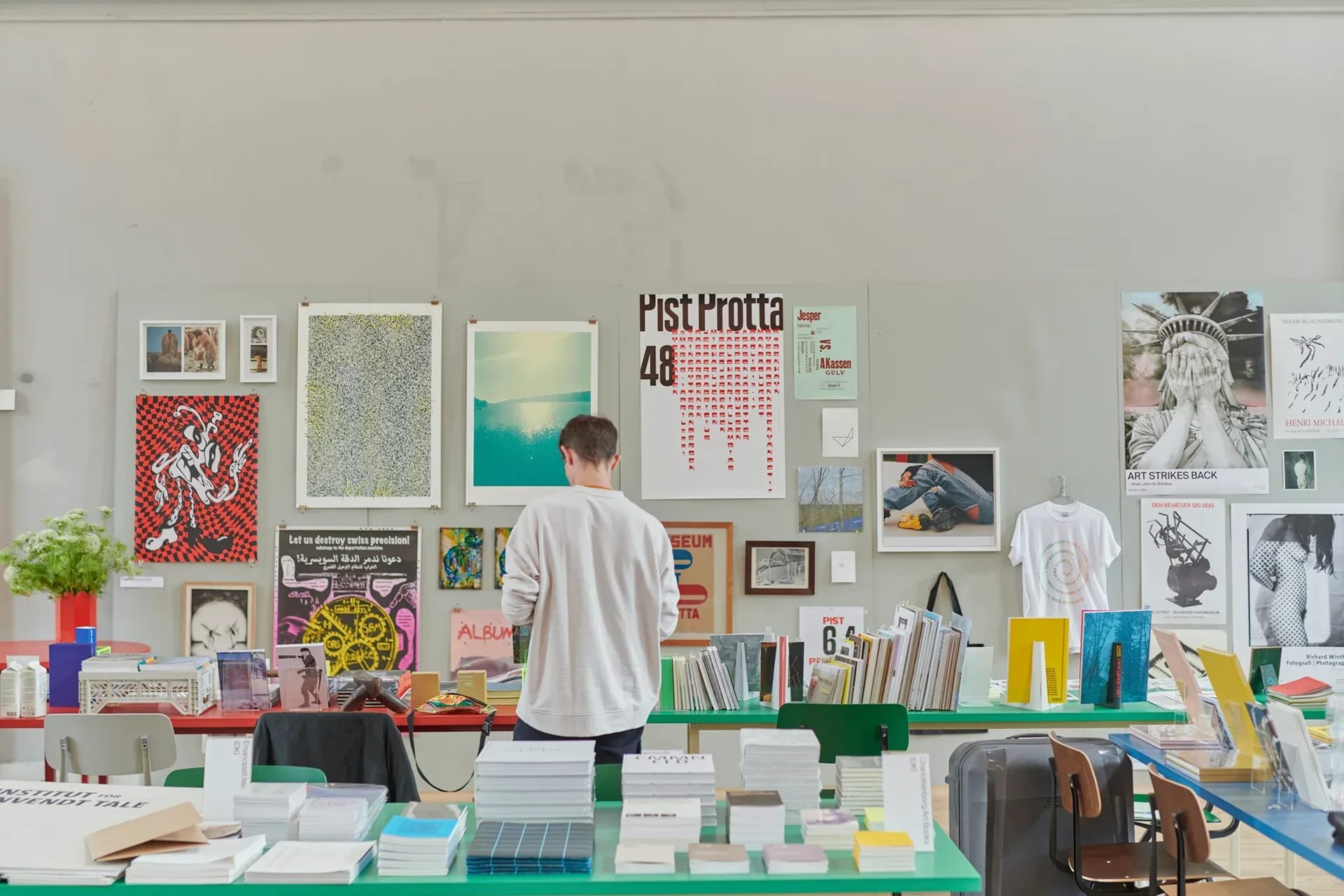 Bringing together the most exciting voices in independent publishing
For CHART 2023, the Book Fair will return to Charlottenborg for its third edition to showcase the work of leading art book publishers from across the Nordic region. If you are curious about the world of Nordic artist books, this is the perfect place to start your collection.
Look forward to new publications by established international artists like Alex da Corte and Tal R, as well as prominent emerging artists like Molly Haslund and Anna Stahn, a new in-depth biography of Norwegian artist Bjarne Melgaard, a curated selection of artist books from East Asia, new photo books from Finland, as well a Deep Reading Room presented by Plethora in collaboration with Københavns Møbelsnedkeri, where you can take a break and immerse yourself in the world of artist books.
Head over the Exhibitor pages to find out more
CHART Architecture Competition
CHART Architecture Competition returns for its 9th edition. This year's theme is New European Bauhaus. 5 finalists have been selected by a broad jury of experts from various specialist backgrounds to conceptualise an architectural project that foregrounds the three principles of sustainability, aesthetics and inclusion, as well as incorporating elements of universal design.
Each team has developed their proposal with close support from our partner ARUP, before preparing for the build-up of their structures to take shape inside the iconic courtyards at Charlottenborg.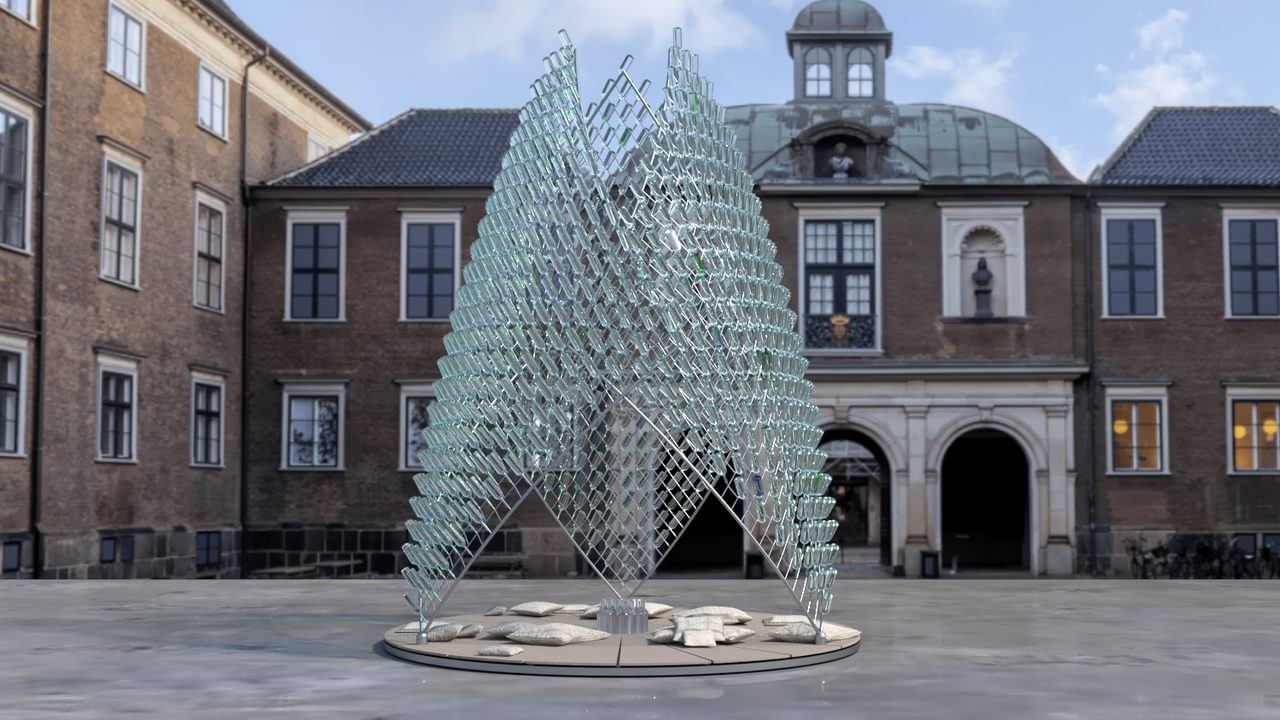 Selected as finalist for CHART Architecture 2023