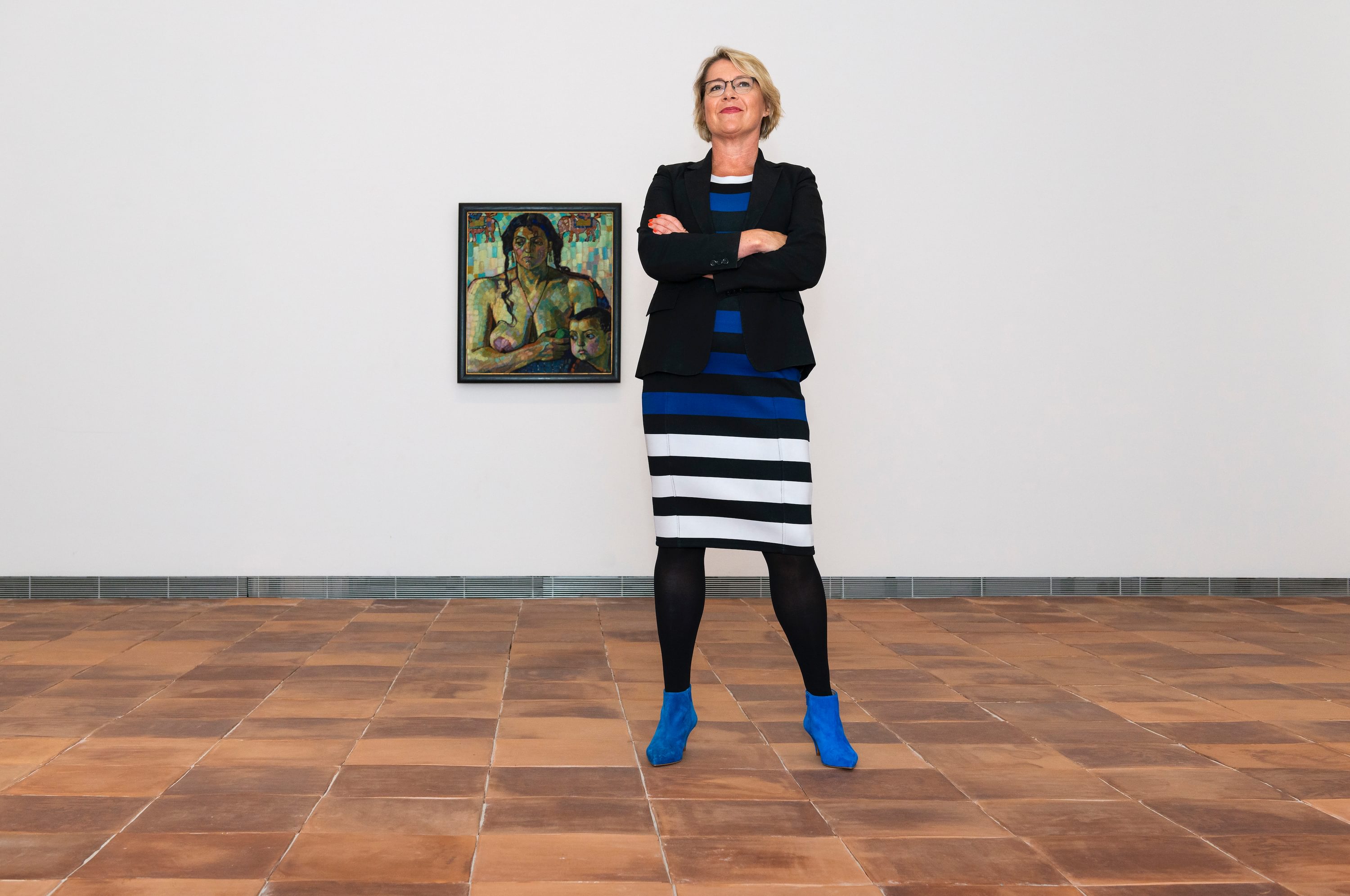 Foto: Åsa Lundén, Moderna Museet.
Opportunities for female artists have expanded more today than at any prior point in history. Nevertheless, levels of institutional exposure have neither kept pace nor changed nearly enough since the 1980s activist works by the likes of Guerilla Girls, who worked hard to depict such disparities. Despite the strides in the marketplace made by female artists over the past decade, glaring shortcomings are still everywhere: for example, none of the 100 highest-priced artworks are by a woman (the auction record remains a painting by Georgia O'Keefe at $44.4 million in 2014). Studies indicate that women's art simply sells for less simply because it was made by a female artist. In light of such stunning prejudice, a fair like CHART showcasing solely female art is not only warranted but rather, an imperative! Enough is not enough—the time for change is now.

When did you know you wanted to pursue a career in arts?
I had the chance to go to a high school specialising in art, and it opened my mind to art that I never experienced before. Pursuing art history became quite obvious a path to me, even though my family never expressed much interest in art. I never "knew" that I wanted to pursue a career in the arts. I merely sensed it without really knowing it when I started making guided tours at an art museum and felt so alive being the one introducing the art to the public. I think I was around 23 at that time. A visitor told me that I had a "green aura." Without knowing what this meant, I thought it sounded cool.
May I ask your age? Where you grew up? Is there a history of art professionals in your family? Collectors? What did your parents do?
I'm 48 and I grew up in Northern Denmark. My mother was a teacher, and my father worked with road construction. We visited an art museum once or twice as a child. My grandfather was a musician and I loved being with him and his friends. My family loved football. Art was nothing I thought about before turning 16.
What was your first exposure to art at 16? How did it impact?
Art revealed itself to me through surrealism. I remember visiting the Salvador Dalí museum in Figueras, Spain, with my family, and I felt embraced, engulfed, entertained, and provoked by his art. Around the same age, I visited the local art museum (where I much later would become director) and was struck by the surrealist artworks by Wilhelm Freddie and Richard Mortensen who started out as a surrealist. I felt in my teenage mind that they spoke to me from the unconscious. Being a teenager is basically to be faced with your unconsciousness on a daily basis.
Did you ever make art yourself?
Not really. I know how to handle a brush and I've studied the different techniques. But I don't have the artistic urge to express myself. I am a decent drawer, though.
How would you define art in a basic sense for dummies?
Art is the power of creation expressed visually. Art is a way of putting images on the stuff that we are just about to comprehend but never manage to, at least without art.
Jean Michel Basquiat said I am not a black artist, I am an artist; Zaha Hadid said I am neither an Arab nor a woman architect, I am an architect; how would you reflect on these comments?
I understand why every individual needs to see him or herself individually. I regard myself as a competent leader within the art world, not as a female competent leader. Nevertheless, we have to address the structures that we have emerged from as both individuals and parts of a bigger picture. Sometimes we have to focus on the bigger picture to move things ahead.
In your personal experience have you ever been held back due to your gender? Has it ever helped you get ahead?
I never let anyone hold me back. I love to compete. So when I've had the feeling of being regarded differently than my male colleagues, I've just raised my voice even louder. Whether it has helped me is difficult for me to say. In smaller circumstances, definitively, but not in the long run.
Can you define changes in the contemporary art world in the last 10-15 years, reflecting increases in opportunities for people of colour and women?
Yes. There has been an increased request for artists of African heritage on the art market. There has been a curiosity towards their view on artistic representation. Also, there has been an intense focus on "long-forgotten" female artists such as Hilma af Klint. Right now, I am observing an increased focus on female artists from the 50s and 60s.
Do you believe in the notion of affirmative action?
Yes, to a certain extent.
Do you believe in an all-female art fair? Is it dangerous to delineate such a fair along lines of gender rather than quality alone?
I see it as a political statement, and I think it is a strong statement within the overall commercial setting of an art fair. An art fair is a limited window towards a range of galleries within a limited period of time. So I do not see it as something that generally weakens our idea of "artistic quality beyond gender," but merely as a wake-up call to a gallery world that possibly hasn't had the same reflections on gender as us museums have.
Georg Baselitz said something for which I'm always surprised hasn't affected his career more: "Women don't achieve higher prices for their work because they can't paint as well as men." What are your feelings about such asinine, moronic sentiments?
In one word: bullshit. I think that people feel pity for him for stating this. By saying it, he shows his own vulnerability. Maybe he feels threatened by the great female painters?
Perfect answer, if I may! And my feelings exactly. What an asshole. Do you collect art?
No. As a museum director, I have to think of the ethical rules of ICOM (International Council of Museums). And I do not have the income of a collector. But I do have art in my home.
What art is hanging in your bedroom, if you don't mind me asking? When I recently visited Karsten Greve's home in the Engadin, I insisted to have a quick peek, even as he was ushering me out the door. And I am glad I did, it was amazing—his bed, with no headboard, was in the middle of room, surrounded by Twomblys and Fonantas and some chosen Louise Bourgeois works, with one of Twombly's large, grey Bolsena paintings standing in for a flat screen TV!
In my bedroom you'll find a painting by the Danish artist Michael Kvium, as well as a photograph by Sophia Kalkau, another Danish artist. Along with our wedding photos. So it's quite modest compared to your experience with Karsten Greve. But I love every piece hanging on my walls.