Every year in advance of the fair, CHART hosts a series of online curator meetings between gallerists that participate at CHART, artists from their programme, and leading curators from art institutions around the world.

During the meetings, gallerists are asked to give a short presentation to highlight the practice of one of the artists from their programme, to an audience of between 3 and 5 curators, invited to the meeting from CHART's extensive network of institutional collaborators.

The initiative sprung from CHART's interest to explore new art fair formats, as well as a desire to bring curators and galleries closer together during the pandemic. In the years following, we have continued to organise the meetings as a sustainable way to bring members of the Nordic arts community together, in dialogue with our international colleagues, without necessitating travel or major disruption to otherwise busy schedules.

We were delighted to facilitate curator meetings for the following galleries this year:

Andersen's (DK), Andréhn-Schiptjenko (SE/FR), Galerie Anhava (FI), BERG Contemporary (IS), Galleri Bo Bjerggaard (DK), BORCH Editions (DK/DE), Carl Kostyál (UK/SE/IT), Cecilia Hillström Gallery (SE), Croy Nielsen (AT), Dorothée Nilsson Gallery (DE), Galerie Forsblom (FI), Gether Contemporary (DK), GSA Gallery (SE), Helsinki Contemporary (FI), i8 Gallery (IS), Galleri Magnus Karlsson (SE), Martin Asbæk Gallery (DK), MELK (NO), palace enterprise (DK), Peder Lund (NO), Persons Projects (DE), Saskia Neuman Gallery (SE), SPECTA (DK), Gallery Steinsland Berliner (SE), Galleri Susanne Ottesen (DK), V1 Gallery (DK).

We would like to wish a heartfelt thank you to the 70+ curators from the following 52 institutions who joined for this year's online curator meetings:

ARKEN Museum of Modern Art (DK), ARoS (DK), Belvedere (AT), Bergen Kunsthall (NO), The Blank (IT), Bonniers Konsthall (SE), Buffalo AKG Art Museum (US), The Canica Art Collection (NO), CCA Andratx (ES), Chisenhale Gallery (UK), Copenhagen Contemporary (DK), Den Frie (DK), EMMA Espoo Museum of Modern Art (FI), Fotomuseum Winterthur (CH), GIBCA (SE), Gl. Holtegaard (DK), Kunstforeningen GL STRAND (DK), Groninger Museum (NL), HALLE FÜR KUNST (AT), HAM – Helsinki Art Museum (FI), Haus am Waldsee (DE), HEART Museum of Contemporary Art (DK), Henie Onstad Kunstsenter (NO), IKON (UK), Kiasma (FI), Kistefos (NO), Kunsten Museum of Modern Art (DK), Kunsthal Charlottenborg (DK), Kunsthal Aarhus (DK), Kunsthall Oslo (NO), Kunsthall Trondheim (NO), Kunstsilo (NO), The Living Art Museum (IS), Louisiana Museum of Modern Art (DK), Malmö Konsthall (SE), Malmö Konstmuseum (SE), MAMbo (IT), Moderna Museet (SE), Moderna Museet Malmö (SE), Munchmuseet (NO), Museum der Moderne Salzburg (AT), National Museum of Women in the Arts (US), The New Art Gallery Walsall (UK), Now+There (US), Phileas (AT), Reykjavík Art Museum (IS), Röda Sten Konsthall (SE), Skånes Konstförening (SE), Swiss Institute (US), The Walker Art Center (US), WIELS (BE), Zabludowicz Collection (UK).


If you would like to find out more about the online curator meetings, or how you can participate in future years, please do not hesitate to reach out to us (fair@chartartfair.com).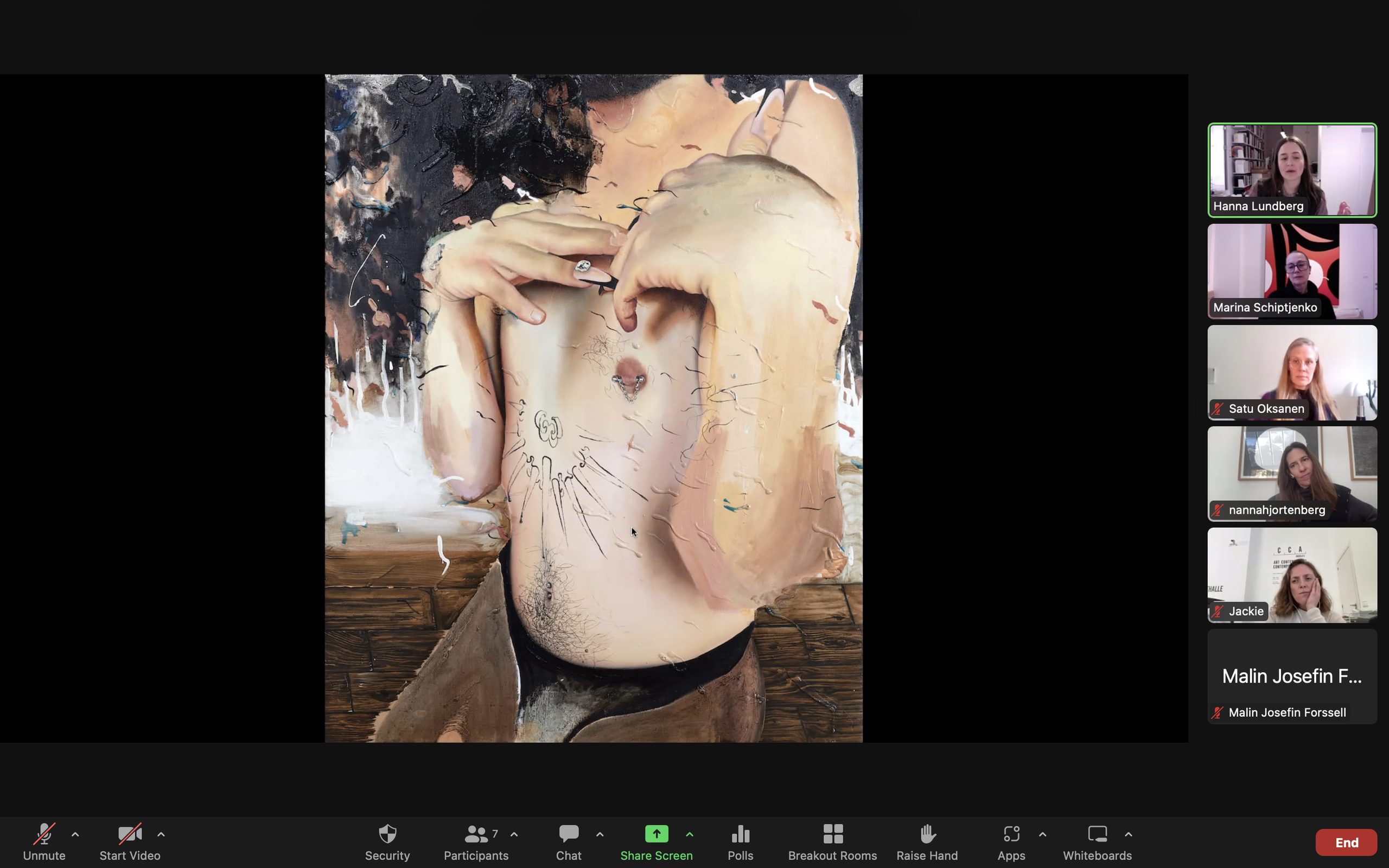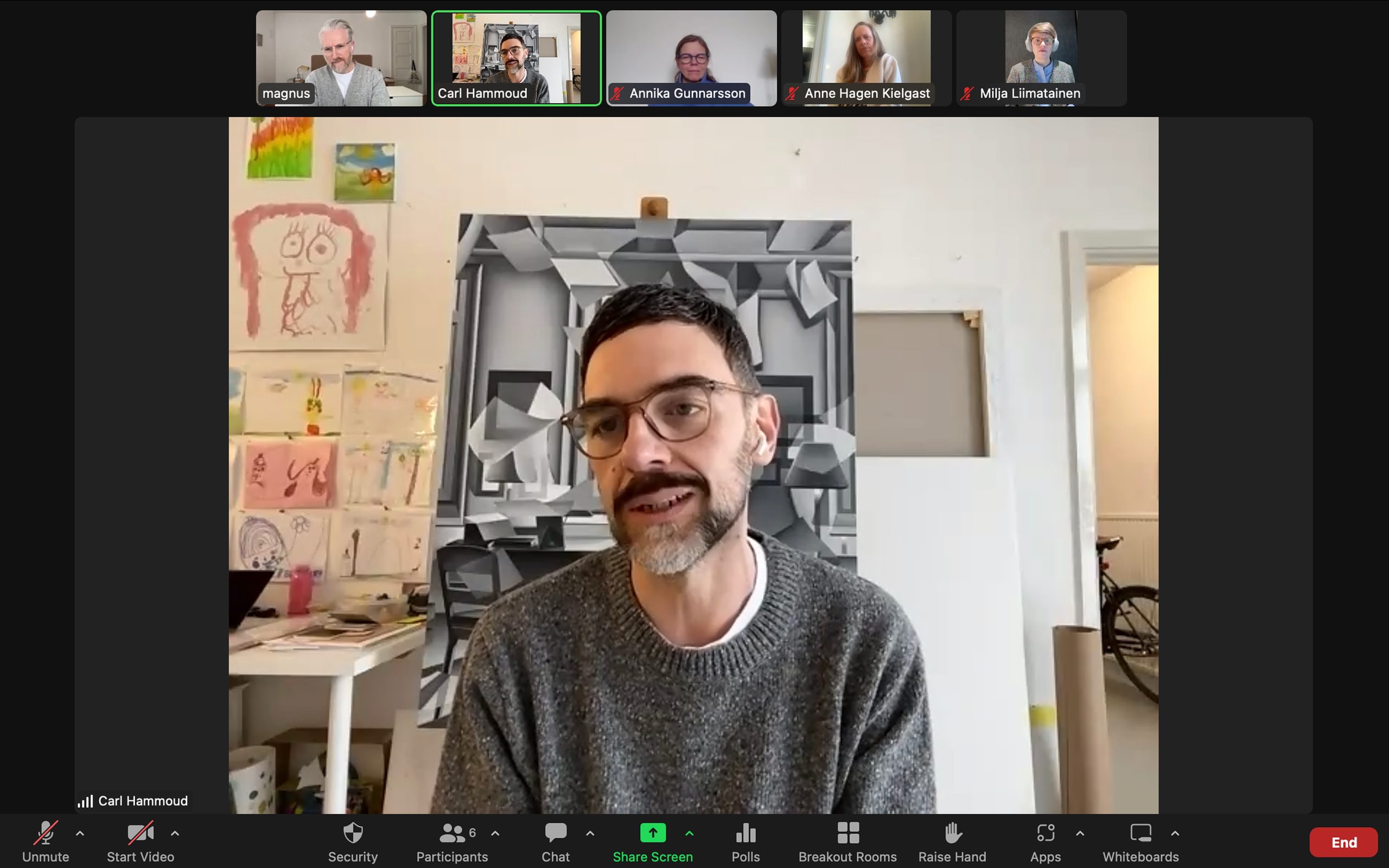 Selected Artworks From Online Curator Meetings 2023
Martin Brandt Hansen, 2022

Sixten Sandra Österberg, Let it through, 2022

Courtesy of Andréhn-Schiptjenko

Kari Vehosalo, Young Adults, 2017

Courtesy of Galerie Anhava

Katrin Elvarsdottir, Songbird, 2021

Courtesy of BERG Contemporary

Emily Gernild, Night Sky of Cosmos, 2022

Courtesy of Galleri Bo Bjerggaard

Fiona Tan, Technicolor Dreaming, 2022

Courtesy of BORCH Editions

Georg Nordmark, BORROMEAN BALL (ELEPHANT TOY), 2022

Sigrid Sandström, Point of Reference, 2022

Courtesy of Cecilia Hillström Gallery

Birke Gorm, I Can Smile At The Past, 2018

Inka & Niclas Lindergård, Family Portait XIII, 2018

Courtesy of Dorothée Nilsson Gallery

Toni R. Toivonen, The Perfect Moment, 2022

Courtesy of Galerie Forsblom

Gioele Amaro, 2gether, 2021

Courtesy of Gether Contemporary

Anette Harboe Flensburg, Corner Left V, 2022

Aki Turunen, Prinssi soittaa luuttua, 2021

Courtesy of Helsinki Contemporary

B. Ingrid Olsen, Slayed Corner, 2018

Carl Hammoud, Major Ideology, 2021

Courtesy of Galleri Magnus Karlsson

Astrid Kruse Jensen, Merged in time and space, 2021

Courtesy of Martin Asbæk Gallery

Thora Dolven Balke, Ghost Fold, 2021

Ann Lislegaard, Insect Media, 2023

Courtesy of palace enterprise

Catherine Opie, Untitled #15, 2017

Santeri Tuori, Water lilies #15, 2020

Courtesy of Persons Projects

Tobias Bradford, Big Hole, 2022

Courtesy of Saskia Neuman Gallery

Frances Goodman, Entwined, 2020

Leo Park, Figure on Grass, 2022

Courtesy of Steinsland Berliner

Klara Lilja, Rafflesiciro, 2021

Martin Brandt Hansen, 2022

Sixten Sandra Österberg, Let it through, 2022

Courtesy of Andréhn-Schiptjenko

Kari Vehosalo, Young Adults, 2017

Courtesy of Galerie Anhava

Katrin Elvarsdottir, Songbird, 2021

Courtesy of BERG Contemporary

Emily Gernild, Night Sky of Cosmos, 2022

Courtesy of Galleri Bo Bjerggaard

Fiona Tan, Technicolor Dreaming, 2022

Courtesy of BORCH Editions

Georg Nordmark, BORROMEAN BALL (ELEPHANT TOY), 2022

Sigrid Sandström, Point of Reference, 2022

Courtesy of Cecilia Hillström Gallery

Birke Gorm, I Can Smile At The Past, 2018

Inka & Niclas Lindergård, Family Portait XIII, 2018

Courtesy of Dorothée Nilsson Gallery

Toni R. Toivonen, The Perfect Moment, 2022

Courtesy of Galerie Forsblom

Gioele Amaro, 2gether, 2021

Courtesy of Gether Contemporary

Anette Harboe Flensburg, Corner Left V, 2022

Aki Turunen, Prinssi soittaa luuttua, 2021

Courtesy of Helsinki Contemporary

B. Ingrid Olsen, Slayed Corner, 2018

Carl Hammoud, Major Ideology, 2021

Courtesy of Galleri Magnus Karlsson

Astrid Kruse Jensen, Merged in time and space, 2021

Courtesy of Martin Asbæk Gallery

Thora Dolven Balke, Ghost Fold, 2021

Ann Lislegaard, Insect Media, 2023

Courtesy of palace enterprise

Catherine Opie, Untitled #15, 2017

Santeri Tuori, Water lilies #15, 2020

Courtesy of Persons Projects

Tobias Bradford, Big Hole, 2022

Courtesy of Saskia Neuman Gallery

Frances Goodman, Entwined, 2020

Leo Park, Figure on Grass, 2022

Courtesy of Steinsland Berliner

Klara Lilja, Rafflesiciro, 2021