The ninth edition of CHART takes place 26 – 29 August 2021 at Charlottenborg in Copenhagen.
Join us for an art fair with 26 of the leading galleries in the Nordics, an Experimental section of 11 artist-run and alternative exhibition spaces, a brand new art book fair of inspiring artist and art-related books and printed matter, and a broad public programme of talks, performances, films, architecture, and music.

CHART is located at Charlottenborg, home of The Royal Danish Academy of Fine Arts and Kunsthal Charlottenborg in the heart of Copenhagen and was founded in 2013 by five leading Copenhagen-based galleries; Galleri Susanne Ottesen, Andersen's, Galleri Bo Bjerggaard, David Risley Gallery and V1 Gallery. CHART is a non-profit organisation.
You have the chance to become part of our exciting team of +100 creative souls at this year's CHART. Whether it is at the VIP desk making sure our guests are having a good time, building up the exhibitions and supporting the exhibits or preparing the different events, our volunteers have an important role to play during the CHART days.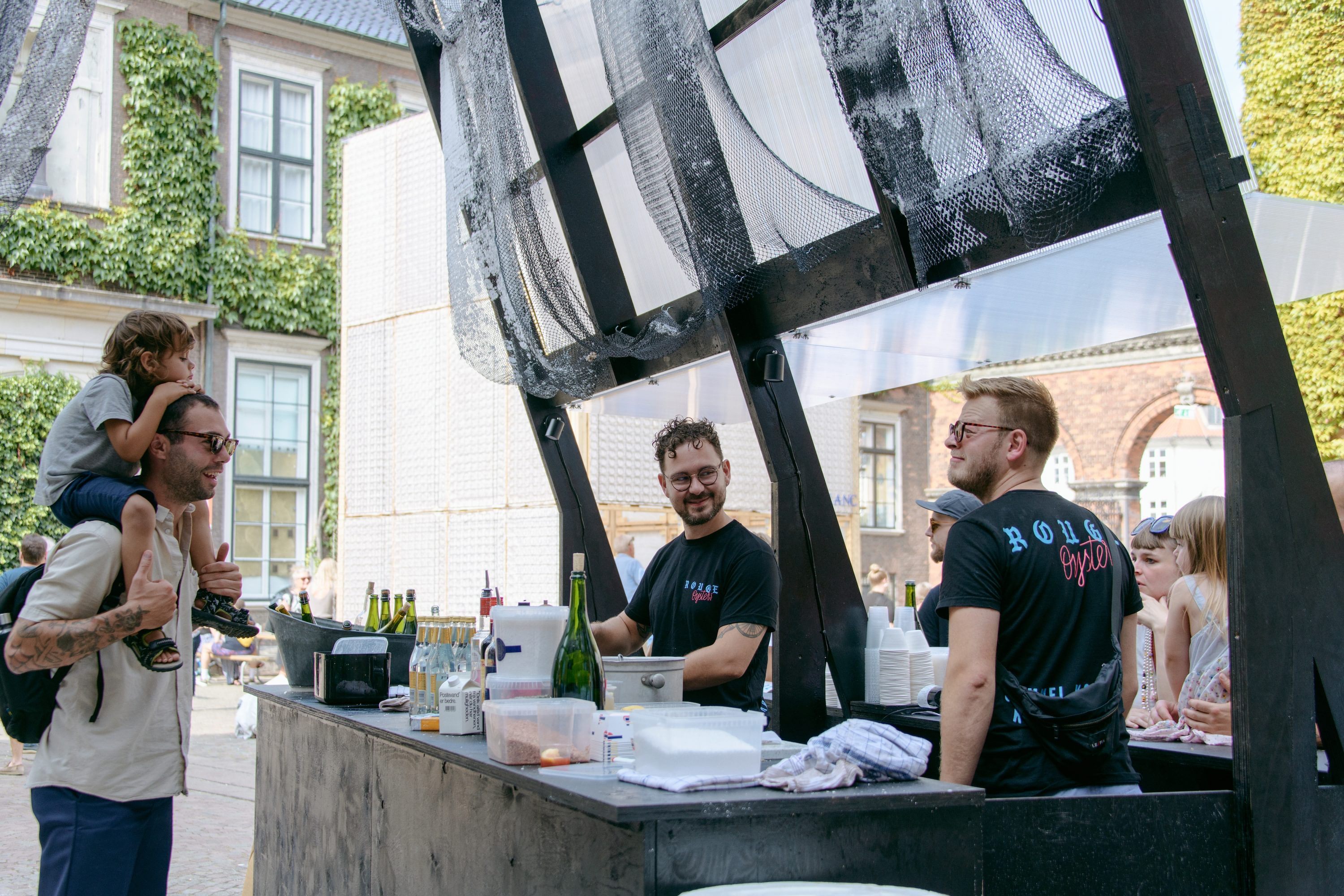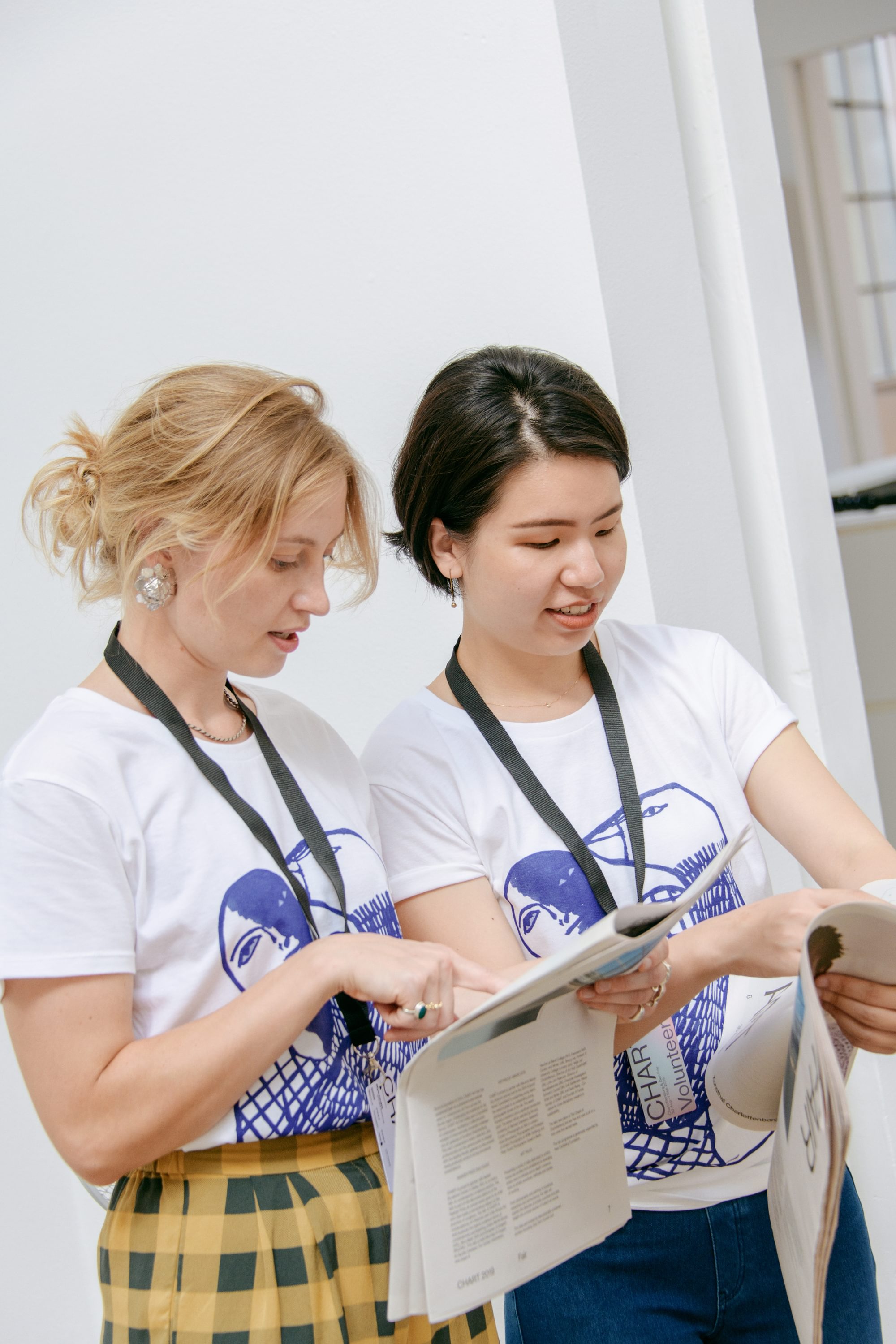 CHART 2021 art fair opening hours
26 August Preview by invitation only 11-18
27 August Opening hours 11-19 (courtyard stays open until 23)
28 August Opening hours 11-18 (courtyard stays open until 23)
29 August Opening hours 11-17

The event will adapt itself this year due to COVID-19. We are working hard to make CHART a safe place for both our volunteers and visitors. If you like art and design, events and busy days in an international environment, then CHART is the place for you! If this sounds like something you could be interested in, then join us on 26 -29 August 2021 in Copenhagen.
Depending on your wishes and experience, you can take on different types of tasks before and during the festival. There's something for everyone!
Please note that volunteers are required to contribute a minimum of two (2) shifts before or during the Art Fair. As the fair is open for four days, we highly appreciate the super-volunteers who would like to have a dedicated mission all four days. You must be +18 y/o to be a volunteer.
Read more about the different tasks below.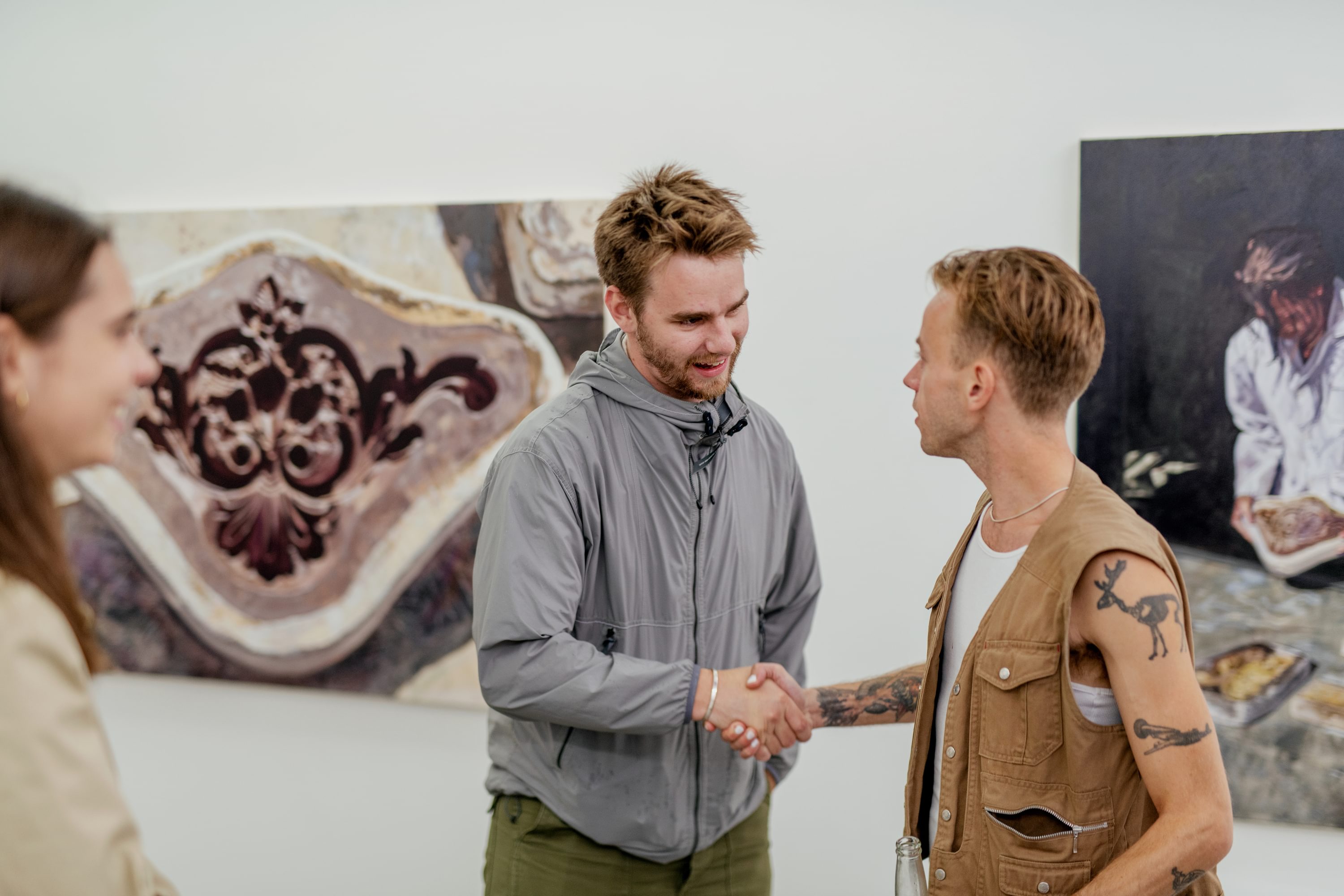 Roles

VIP Desk
We host and welcome a big number of international and local guests, exhibitors and programme participants, and we want them to feel welcomed, well-informed and ready for their experience at CHART, both indoors and outdoors. We run a central VIP desk where a small and dedicated team of trained volunteers will be welcoming and guiding our important, international guests. If you like having responsibility and you're an outgoing and service-minded person, we're looking for you. Good English skills are a must, since you'll be dealing with our international guests. Speaking Danish is a big plus.This is an area that we encourage you to dedicate time during the 4 days (or as many days as possible).
Ticket/Info Desk
We run a ticket desk, where a small and dedicated team of volunteers will be welcoming and guiding the audience, selling tickets and books. It is your responsibility to inform the visitors about the event and guide them in the right direction. If you like having responsibility and you're an outgoing and service-minded person, we're looking for you. Good English skills are a must, since you'll be dealing with our international guests. Speaking Danish is a big plus.
Production Assistants
Our valuable production assistants are helping with all CHART preparations at Kunsthal Charlottenborg. We need strong and reliable people who are not afraid of lifting or other physical tasks to help build up the exhibition spaces beforehand, run the fair during the days and take them down afterwards. If you are interested in event/venue production and want to learn what's needed to make a 4-day international art fair, this is a shift for you.
Art Fair Assistants
The heart of CHART is beating at Kunsthal Charlottenborg near Kongens Nytorv for all our programme activities, events and exhibitions. To create a great experience for our guests and participants and make all work well around the clock, we count on our outgoing Art Fair assistants. The team of assistants move around to guide the guests, keep an eye on the exhibitions, help the exhibitors and make sure that the place is in shape and ready every day to host our activities. If you are service-minded, at ease with big crowds and like making things happen, this is a place for you.
Events/Runner

We believe that good events create a good experience for both our guests and programme participants. We need your attitude and your smile to make our events happen during the 4 days of the festival. The most important thing is to be service-minded and flexible. Along with your co-volunteers you will make sure that the event runs smoothly, the place is clean and tidy, and whatever help is needed at a given moment. Through volunteering for this position you will gain a lot of experience and organising social events will feel like a piece of cake after that!

Do you want to be a Super CHARTer?
As a Super CHARTer you can take assignments that require more responsibilities and you will play a more important role in our team.
Ideally, we look for dedicated people who can work all four CHART days 26 - 29 August at a specific area of work - or combine tasks. Alternatively you can combine production tasks prior to CHART with shifts during the opening days. You will get the chance to be an active part of the festival, gain more work experience, develop your skills and gain a recommendation letter (upon request) on top of the other rewards.


Apply to join us
If one of these tasks sounds good to you, we can't wait to meet and work with you!

Please sign up HERE.
We will come back to you and start the arrangements. The detailed planning will follow in mid-August.

Rewards
In exchange for your free time, you will receive a CHART ticket for you and +1 ticket that you can share with your family or friends, that gives you access to all exhibitions in CHART. Moreover we will reward you with beautiful small treats from our partners and a certificate of attendance (upon request). Moreover, you will network, gain organisational competencies and meet various people from the creative industry. We will take good care of you during the days of the festival offering food and beverages.
Reach us at volunteers@chartartfair.com for more information or questions.